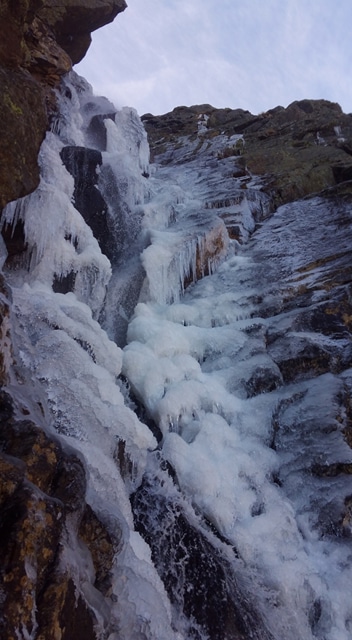 Conditions Update! 11.10.17
New Hampshire
We had some eyes on the condition of two early season prizes in on Wednesday the 8th! A close look at Pinnacle Gully revealed some unconsolidated and thin, but hopeful, frost and ice. No rock pro options that morning led to a 'No Go', but with temperatures remaining frigid, it may be climbable soon! I'm sure the motivated will head into Huntington Ravine this weekend.
No doubt Cannon Cliff will get a close inspection as well. We have a 'from-the-road zoom in' to the dike area and Fafnir. Who will be enticed to take a walk up and peer around the corner?
Vermont
In Vermont, it's currently snowing on the higher peaks and I know a few climbers who only need a millimeter of ice on the cliffs of Smuggler's Notch to make it go.
New York
A look at our Instagram feed shows crampons to ice! @willclimbz posted a sweet pic of Slide 1 on Whiteface in 'Thin But In' conditions. Right on!
We certainly had some warm temperatures in October and my usual Halloween ice was far from happening this year. Now temperatures are remaining below freezing up high for a few days leading into the weekend. Finally! Hope to see some great photos and reports of ascents coming in. Have a great weekend!
https://www.neice.com/wp-content/uploads/2017/11/pinnacle-close.jpg
640
352
Courtney Ley
https://www.neice.com/wp-content/uploads/2016/10/2012_NEice_logo_oval_blk6-300x103.png
Courtney Ley
2017-11-10 16:22:33
2017-11-14 01:22:28
Conditions Update! 11.10.17