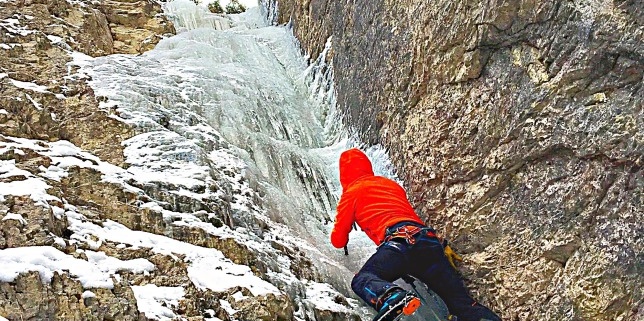 After a Fall in the Mountains
By William Bevans

I climbed smoothly and efficiently through the initial ice bulges on what started out as a bumpy cauliflower pitch of AI3. Not long into my lead on the first technical pitch, I came to a small ledge and took that opportunity to shake my arms out and rest while I looked up for the line of least resistance. It was early morning and the sun just peeked over the horizon. I was perched on the beautiful and tough East Face of Mt. Kidd in the northern Canadian Rockies. The air was dry and cold. Light winds raked the face with snow that had fallen from the prior day. The feeling of being an climber high up on such an amazing line in that setting was a very visceral experience. With my thoughts collected and a small recharge of energy, I moved off the ledge and into a small chimney. I worked the chimney with a series of stems, being content and focused in the moment; finding comfort in the noise of clanging metal from a full rack of screws and ice tools. I laid solid foot placements with my mono-points, working the cracked limestone well, continuing to move well and without issue; and then suddenly, it just happened. I looked down and saw I was quite a distance from my last piece; I then looked up at the remainder of the chimney. It looked grim. What began as good, solid ice thinned into a translucent coating frozen to the rock; verglas. I could see the green lichen underneath the clear coat. Nothing was protectable. I had one leg loaded onto a mono point, my other leg fully extended keeping my stem position. I knew I couldn't hold it for much longer and I knew I couldn't down climb.

___________________________________________

It's coming. Soon it will be the end of October. The sky will be getting dark early, the air will be crisp and we will be waking up to frost all over everything. This combination sparks New England climbers to morph and begin preparing for the ice season ahead. Whatever we did all summer will slowly go to the wayside; we'll begin scouting cliffs, sharpening our metal, pouring over weather maps and waiting for that steady spell of cold. The winter climbing community will awaken from months of slumber to make trips into the high ravines to see if Pinnacle Gully is in or wait to see who is brave enough to scrap the Black Dike first. Shortly, most of us will be sitting at our 9-5 and get that text from our partner, "You think it's in? You wanna go?" The beginning of many of our weekend or midweek warrior epics will be here before you know it.


Last season, I saw some amazing climbing feats go down; ones that I wish I could have been a part of but ultimately decided I couldn't be. It was never easy to volley the text back to my partner and admit my truth: "Sorry, just not feeling it." or "I just can't do it." That was the first winter in over two decades of climbing where I had to turn down a number of trips. I knew I didn't possess the head game required to climb at those high levels.

___________________________________________

It was November 2016. We were in the Canadian Rockies. The season was still young, and like any of us, I was trying to shake out the cobwebs and get on some good pumpy alpine ice. In the Can Rocks, it's imaginably cold, there isn't much daylight, the approaches are long, the mountain weather is serious, the terrain is highly technical and the climbing is tough as shit. You can easily see why climbers that hail from this region are absolute beasts. We drove along the dark, cold and snowy I-93 Icefield Parkway just outside Banff. It was some obscure hour in the morning and a natural silence filled our drive. On our docket was the East Face of Mt. Kidd, which may only have seen one successful winter ascent. I found myself trying to get my head straight. 'Am I gonna be ok? Am I fit enough? Am I really prepared on all fronts to bivy a night out if need be? What the fuck am I actually doing here? Why am I not surfing in Costa? How bad do I really want this? Does this just sound like a good, bad idea?' I found myself waging the proverbial alpine war, asking myself the tough questions I rather just avoid. You don't know what's coming. You don't even know if it is climbable. You basically have to be as fit as possible and try to battle up it first go the best you can.

"I was surrounded by verglas and caught tight inside this chimney. My eyes moved over every inch of rock and ice as tried to make sense of every possible move sequence I could commit to until I was in a spot of safety."

Questions unanswered, I began the approach with my partner, working as smartly and efficiently as we could, as there wasn't much in the way of a trail. It was dark and still very cold out. No matter how much we tried to keep our packs light, they still felt heavy. My body was trying to acclimate to the aches of climbing after a long summer of surfing. Moving along, we tried to make sense of a path by connecting obscure recesses of dirt between patches of fresh snow. I knew if we just got off the trail a little bit, it would set our game off and we'd start doubting things. The calm pre-dawn was interrupted suddenly by an avalanche barreling down the south face of Kidd. Although there was nothing to be seen, the sound was unmistakable. It took a minute, but we shook it off and started moving again. We crossed glacial fed creeks, and trekked in the forest along beautiful, massive cedars and larches as the smell of fresh pine filled the air. We started to feel our engagement in this mission come to life. Our senses filled with adventure and peace from the natural beauty around us. Once the light broke, we found ourselves greeted by the intimidating East Face towering over us in full winter ware. The approach was behind us, and it was time to get real as we started the technical terrain.

___________________________________________

As climbers, we are interested in the grades or ratings of our climbs for they allow us to gauge our ability and give us a somewhat quantitative measure in our advances. We also want to get better and climb harder. Like many young budding ice climbers, I was quick to work up to WI3s and 4s but truth be told it would be many years, hundreds of routes and countless hard lessons before I climbed into the next realm of WI5. Any climber can attest that between these two grades, the parameters change significantly and I would certainly attest that the head scare factor significantly increases in that jump. Being a good climber is one thing; we all know those who climb well have skill, sound technique, and usually an above average degree of fitness. But what does it actually take to climb larger objectives with significant difficulties? Arguably, a climber's mental strength and conditioning is usually the single most important factor in their potential and their capacity to be successful on advanced difficult climbs. The training regimen or composition of what makes a mentally strong alpinist is not completely understood or it is esoteric at best. A climber with advanced mental conditioning who has committed to creating a bulletproof head is capable of solving complex problems while staying task focused, operating in pretty terrifying conditions all while remaining calm.

___________________________________________

I was surrounded by verglas and caught tight inside this chimney. My eyes moved over every inch of rock and ice as tried to make sense of every possible move sequence I could commit to until I was in a spot of safety. Committing, I went for the "do or die" move. Then, I caught a little spindrift and goofed my placements. I remember hearing metal clang all over like wind chimes while I fell. Several meters of air time passed me by before I bounced off my rest ledge crushing my shoulder. The ledge slowed my fall, but I continued down another 10 meters until I finally, just stopped falling. Hanging there, I remember doing a quick motor drill like, move toes, move fingers, blink, blink, you good? I'm good. I'm good! No major injuries, a few cuts and the adrenaline flowing hard. Now what? Head game damaged, ego beat up a bit and feeling a little humble, I pick myself up and my partner and I limped it back out to the car. Hiking out, I began thinking of the consequences should things have ended up worse. What if I couldn't walk out? What if this? What if that?

___________________________________________

Mental conditioning could be the single most difficult trait for a climber to improve on. This is especially true after a serious accident, as our climbing psyche can be left damaged, weak or fragile. This is the side of alpinism that we tend to glance over; the psychological and the mental strength dimension of being a climber and specifically, getting back on the sharp end of the rope after an accident. Sometimes our egos get in the way and we don't talk through those issues. I didn't really know the extent of how was I affected by my fall until I went climbing in Mt. Blaine Canyon the next day. I get in, everything is looking good; nice grade 3 cruiser. I hop on, start climbing and a few feet up it all starts coming back. I fire in a screw and signal to my partner, "Just lower me." This would be my head for most of the remainder of the season. At this point, after so many years, countless trips, expeditions, big walls, alpine assaults, and high altitude objectives where I enjoyed the complex head game of being an alpinist, the incredible focus climbing gave me; it all seemed over. After my fall, I got my first taste in what it is like to have lost my head game.

"Years later, I still remember that day vividly and respectfully consider it one of the most important lessons I have ever learned; acknowledging and respecting where your head is while climbing."

How do you get your mental game back once you feel it slipping away? A few days later, right across the way from my mishap, in Ghost River Valley, a local climber fell 40 meters on the climb Kemosabe (W4). Luckily his partner, a physician, was able to stabilize him to the best of his ability and initiate a cooperative air rescue. I was deeply moved by this accident as a 40 meter fall is no joke and it was close in time and location to where I fell. He and I stayed in contact throughout the year and we spoke recently about re-evaluating how much risk we are willing to put into climbing. We discussed how similarly our paths forward would be; focusing on moderate climbing with much less emphasis on difficult routes and naturally working back up into difficult routes down the road. Climbing used to be a major part of who I am and a significant priority in my life but as I approach this upcoming season, I'm seeking a healthier balance. I need to acknowledge that I recently kissed the edge of what could have been a much more serious accident. As for retraining the mental strength required to climb such lines, a good start for me is not forcing anything and to trust the natural process.

An incident that touched closer to home was when highly respected and accomplished Adirondack guide Matt Horner took a serious 20 meter fall last winter shattering several bones in his face. Matt has rebounded quickly and in recent conversation stated he is eager to get back on the ice anticipating only minor tweaks in his game like placing more pro, climbing more cautiously but ultimately no major plans but to go with the flow.

The first major incident where I witnessed a partner lose his head game was a few years ago on an expedition. My partner was an accomplished climber, having ascents on several of the world's great difficult lines. He is humble, smart, fit and was destined to be a natural and successful leader on our climb. We climbed together for a solid month and I believed we would work seamlessly together to succeed in our upcoming trip. After so much work and several weeks on the go, we finally made it to base camp and we were ready to climb. In Himalayan expedition climbing it is mandatory to complete paperwork regarding the disposal of your body should an accident occur resulting in death. It's actually quite a head trip to fill out. As we stood staring at the 7,000-meter Himalayan beast in the face, he simply said to us that this wasn't his trip and he was out. It was the first time I saw someone back down like this, a career defining trip left to the wayside; a sixth sense telling him to walk away. Years later, I still remember that day vividly and respectfully consider it one of the most important lessons I have ever learned; acknowledging and respecting where your head is while climbing.

A mentor imparted on me that climbing in the mountains is really all about how much you are willing to suffer and the answer to that is all in your head. I never really understood that until I started to put together the common themes among my trips; shivering all night in a bivy, eating tasteless gruel day after day, post hole, soul sucking marches across summit fields, being scared shitless 30 feet above your last piece, freezing on a belay ledge and hoping your partner is down to rope gun the crux. Anybody who has done this type II kind of climbing knows that it's a very deep, inward experience and it's barely as romantic as it appears on Instagram. It is the type of grind we as climbers are proud of, that gives us character and always has us coming back for more. Everyone has their different reasons why they climb, but our common thread is found in our processes. No matter what discipline you climb in, no matter where in the world you climb, climbers across the world speak the same language. You can climb anywhere in the world and most outings begin and end with striking similarity; morning coffee, catch-up on the approach, a stoked first tool placement, enjoying hard earned views and who ever guns the crux drinks for free that night. For me, many of the toughest and grueling experiences I have been lucky to be a part of have forged the strongest relationships in my life. The dedication to our craft arguably makes our collected commitment to alpinism one of the greatest activities in the world. Co-workers say to me "You're crazy doing that." I say "You're crazy, you watch football all day Sunday." I really don't know any other way so I guess crazy is all relative. So as the saying goes "most people prefer comfort forgetting that difficulty is what actually nourishes the human spirit."

The season is starting soon and we will all be shaking out our summer cobwebs, checking conditions, pondering where the ice is good and trying to put all of the data together to plan a good, safe outing. For newer climbers, trust the process, stay patient and allow your learning to flow through the high and the low points. If you come up short on a climb, don't let it shake you, everyone has been there. Re-think a different, smarter approach. Learn from your mistakes and always be open to learning from others mistakes. Alpinism is a lifelong study that never ends. There is always something to improve upon. Learn to trust your gut and remember that most of climbing is mental and it's not any easy game. Remember that everyone at one point or another has had some time where their head wasn't in the game. When you're out there, be safe, check on each other, climb within your headspace, have fun and make smart calls so you can rope up and climb another day. See you out there!

About the Author: William Bevans is a New England based alpinist with over 20 years of experience in the mountains. His studies are concentrated in the area of technical alpine climbing and high altitude mountaineering. He has completed climbs and led expeditions in the Cascades, Rockies, Alps, Himalayas, Andes and big walls in Yosemite, Zion and Mexico. Currently he is involved in mentoring next generation alpinists and climbing the New England classics.
Other articles by the Author: Layering 101
https://www.neice.com/wp-content/uploads/2017/10/Mt-Blaine-featured.jpg
625
644
NEice Contributor
https://www.neice.com/wp-content/uploads/2016/10/2012_NEice_logo_oval_blk6-300x103.png
NEice Contributor
2017-10-20 14:33:51
2017-11-16 22:40:20
Back on the Sharp End