A Climber's Guide
by Alden Pellett
I opened the door to the sound of howling wind, blasting horizontally in front of the cabin loaded with fresh snow that felt like sandpaper on my face. The thought of ice climbing in this harsh below-zero weather made my gut turn. I closed the door, turning to my climbing partner Ryan, "We're going to need more hot tea."
For us, that was an early experience on the road to discovering the ice climbing potential in Newfoundland. We had arrived in mid-January that year, learning the hard way by enduring a long sub-zero cold snap with nasty winds that convinced us that it's better to go later in the season. Before we left on the trip, Joe Terravecchia, one of the earliest pioneers of ice climbing in Newfoundland and whose slide show on climbing in the area had whet our appetites, had not offered up much beta, leaving us to discover what we could as we went.
"The striking Cholesterol Wall, an intimidating steep rock shield often covered in overhanging fat-like ice blobs"
Motivated by those tales of huge remote ice climbs, my friend Ryan Stefiuk and I had piled all of our climbing gear into my rig and headed out from Vermont. We drove out across Maine, through New Brunswick, and out to the tip of Cape Breton Island in Nova Scotia. There, in North Sydney, as we drove onto the massive overnight ferry late in the evening, a ferry worker motioned us forward as we followed the line of heavily loaded semi-trucks down into the belly of the beast. We awoke the next morning in the upper deck to the sound of ship engines rumbling as we arrived in Port aux Basques, Newfoundland, relieved that we hadn't experienced one of the legendary boat-tossing, vomit-inducing, heavy sea crossings the route can occasionally produce.
Hunting down where to ice climb in Newfoundland has never been easy. Information on first ascents and route beta has always been difficult to get from previously closemouthed visitors who were possibly hoping to keep the area quiet, to keep potential first ascents to themselves, and to maintain a sense of adventure for others, leaving other first-timers feeling more like they were on an expedition. In fact, this tight-lipped ethic has led to more than one climbing team declaring first ascents, only to find that the routes had been climbed years earlier.
On that first trip ten years ago, Ryan and I eventually found our way to the coastal town of Rocky Harbour. Along the way, the scenic windswept coastal lands scattered with stunted spruce trees that sprouted branches growing only on the downwind side hinted at severe weather. One highway sign along the way warned drivers of poor visibility and dangerous winds over 100 kilometers per hour.
Arriving there in the small fishing village near Gros Morne National Park, we soon learned that the prime area in the region, full of the huge classic ice climbs we had dreamed of, was Ten Mile Pond.
This deep freshwater fjord just outside of Rocky Harbour is home to dozens of big classic winter routes of world-class quality, from 600 feet long to near-Alaskan proportions of 2000 feet in length – many of which have only seen one ascent. Each of these stunning routes is every bit as classic as Quebec's legendary 800-foot La Pomme D' Or (WI5) or Polar Circus (WI5) in the Canadian Rockies.
The area is also home to the striking Cholesterol Wall, an intimidating steep rock shield often covered in overhanging fat-like ice blobs. The fat theme plays out on routes with names like Fat of the Land and Tundering Lard, both WI5+ and over 800 feet tall.
Thanks to a relatively accessible location with good comfortable lodging nearby and very friendly locals, this beautiful backcountry destination should eventually be on every serious ice climber's tick list.
To help open the door for NEIce readers to find their way to this incredible spot, and actually enjoy the weather instead of fighting it, we've compiled some past stories and photos along with some good beta.
Stories on Newfoundland Ice Climbing:
---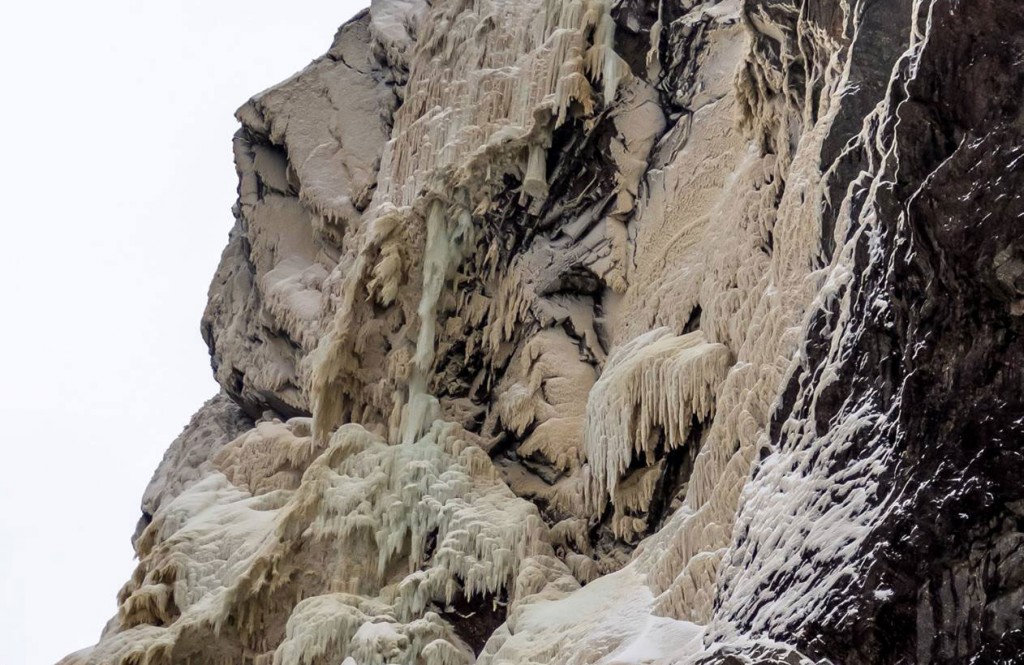 Dreamline (WI6+, 1,260′) February 21, 2017 Gros Morne National Park, Newfoundland, Canada Joe Terravecchia,Will Mayo and Anna Pfaff climbed a new, and spectacular line today, "Dreamline" (WI6+, 1,260′). Dreamline is a spray ice climb to the right of The Pissing Mare Waterfall on Western Brook Pond. Joe and Casey Shaw have been dreaming of, and eyeing this line since 1997, waiting […]
0 comments
http://www.alpinist.com/doc/web07-08w/newswire-menard-mongrain-newfoundland
http://www.alpinist.com/doc/web15w/newswire-mayo-pfaff-new-route-newfoundland
How to Get There:
The best and cheapest way to get to Newfoundland is really to drive your own car. Yes, it's a long drive!
Otherwise, fly into St. John, NL, and either rent a car there (A nine-hour drive to Rocky Harbour) or arrange an additional flight to Deer Lake, NL, where you can rent a car from any one of the major rental agencies. From there, Rocky Harbour is just an hour away.
Driving Directions:
If you are coming from most areas of the Northeast, get yourself to Bangor, Maine. From here, it is 550 miles out to North Sydney, Nova Scotia. From Bangor, take Maine State Rte. 9 across the southern part of the state. Cross the Canadian border to follow New Brunswick Rte. 1E (NB-1E) nearing the Bay of Fundy and eventually through Saint John, where the road heads more inland. Near River Glade, merge onto the Trans-Canada Hwy (NB-2E) and continue past Moncton, NB, where the highway starts heading more southerly finally reaching Nova Scotia, where it becomes NS104E. Eventually, the road becomes NS105E. Follow signs for Trans-Canada Highway/Cheticamp/Baddeck/Sydney. In North Sydney, turn right onto Orangedale Road (signs for Marble Mountain/Lona). Turn left onto Portage Road, then turn right onto NS-223 E (signs for Lona/Grand Narrows/North Sydney). Finally, continue onto Seaview Drive/NS-305 N. Once you are in the parking area for the ferry, you will find a terminal with bathrooms. Be prepared for a long wait if seas are rough. It is best to buy your tickets well in advance. You should arrive at least three hours before departure time.
Board the ferry for an overnight journey to Port Aux Basques, Newfoundland. Get your tickets and find the schedule and other information here: https://www.marineatlantic.ca/en/plan-your-travel/ferry-rates/
The Marine Atlantic ferry has overnight cabins with beds and a bathroom/shower, or you can go cheaper and opt for one of the less private bunkbeds. There is a cafeteria serving decent dinners and breakfasts on board. Note that you are not allowed to return to your car in the hold during the voyage, so bring whatever you need up top with you.
Once in Channel-Port aux Basques, Newfoundland, get on Trans-Canada Hwy/NL-1 E from Caribou Road and High Street. Continue through Corner Brook to Deer Lake. In Deer Lake, take NL-430 N eventually coming to views of the ocean in East Arm, fifteen minutes away from Rocky Harbour.
General:
It's possible to ski in and pitch camp by the fjord if you want. It's been done, but why suffer? It's much more enjoyable staying in town and hiring a local person to snowmobile you in for an early start and back out at the end of the day where you can have a shower, a cold beer, and a hot meal after climbing all day. Once in the fjord, the hard part will be deciding which of more than a dozen world-class routes to do that day. One could spend two weeks climbing in Ten Mile and still be left with plenty more to do on your next visit. If you are looking to tick off a first ascent here – good luck! Climbers have been quietly coming here for over twenty-five years. To quote an early first-ascensionist, "We climbed that place silly!" But, if you find an unlikely challenging line that catches your eye, give it a try! You just might get lucky. The ethic established at Ten Mile Pond and other fjords in the region is one of traditional ground-up climbing with no bolting.
Where to Stay:
On the return trip, we have found it nice timing after leaving the ferry behind, to have dinner and stay in the small town of Antigonish, Nova Scotia.
In Rocky Harbour, we love Gros Morne Cabins. Not too fancy, comfortable, cozy, and an easy walk to the store for beer, food, etc. Kitchen, stove, oven, refrigerator, shower, and wifi. http://grosmornecabins.ca/
When to Go:
Early January can be windy and frigid. For longer days, more ice, and better overall conditions, go in February into early March. It's mandatory for the inland fjord of Ten Mile Pond to be frozen in order to facilitate easy snowmobile or ski access without having to go over the top of Gros Morne Mountain. Once on the shore of the fjord, it's generally only a thirty- to forty-minute approach uphill with snowshoes or on frozen neve if conditions are perfect. Weather is a serious topic in Newfoundland. Whiteout snowstorms can sneak up on unsuspecting visitors. Local residents keep close tabs on the forecast, often planning their travels to town around it. If what the locals call "dirty" weather is coming, it's best to stay close to home or indoors.
Other Stuff:
There is actually usable cell service at the west end of Ten Mile Pond, so you can call if needed. There is excellent cross-country ski touring and backcountry skiing to be had throughout the region. Ice fishing is a popular local activity along with snowmobiling.
Smaller routes can be found everywhere around the region. Oceanside ice climbing on the cliffs at Cox's Cove makes an excellent half-day adventure. Be sure to go at low tide.
---
Area Map
Zoom, pan and click icons for more information

https://www.neice.com/wp-content/uploads/2019/01/cholesterolwall_websz.jpg
968
1440
Alden
https://www.neice.com/wp-content/uploads/2016/10/2012_NEice_logo_oval_blk6-300x103.png
Alden
2019-01-03 00:51:14
2019-01-07 17:09:27
Finding Big Ice in Newfoundland