A New Test Piece in the Catskills
by Christopher Beauchamp
I could feel a familiar tingle in my fingers warning that were I not careful, the barfies would soon arrive. I cursed myself for letting my hands go numb and whined to no one in particular about the cold. My feet were numb as well, but that was more a result of hanging in my harness for too long rather than any environmental condition. What the hell was I even doing up here? I was the only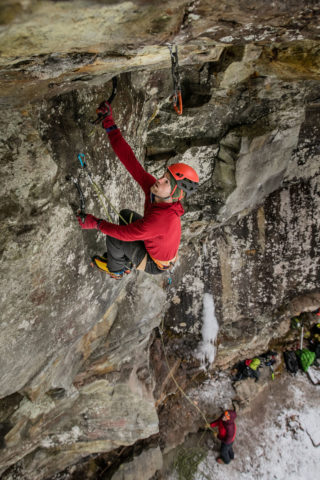 one who had been in the canyon all day. And of course I was, it was a random weekday, people were at work, busy being productive members of society or whatever it is regular rational people did with their days. Given what a fiscal disaster the previous year had been, shouldn't I also be at work? Shouldn't I be franticly courting new clients? Or at the very least massaging the relationships I had with existing ones? Certainly almost anything would be a better use of a day than driving 6 hours round trip in order to freeze while dangling on the end of rope with a crowbar and hammer, cleaning loose rock off some random bit of steep choss while sinking $100+ of stainless steel, epoxy and chain into the rock in the hope of possibly climbing it on some unknown future date. I'd already invested 3 days into this route and was again beginning to ponder my life choices.
The first day Lucho Romero impressively climbed and aided up the faint knife blade crack to the roof before handing over the reins. The second, we attempted some bizarre back-tensioned top rope setup, but I was far too chicken shit to commit to pulling on the holds in the ceiling. The Catskills rock can at times be dubious at best and on such a flat roof I'd be pulling them directly towards my face. Now I'd squandered a third day removing the loose bits and putting some glue-ins in the roof so we could properly work the route, all the while continuously attempting to rationalize . Does it even go? I could be donating blood. Can I climb it? Or volunteering at a soup kitchen. Would anybody else even want to climb it? Or wandering the streets picking up litter. It was getting dark and I was hungry and numb so I abandoned the crack I was mining frozen mud out of and jugged up the rope out of the canyon, half laughing at the absurdity of it all.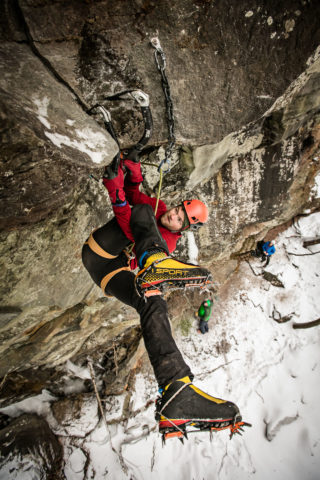 "I think I can knee bar the ice!" I gleefully exclaimed two weeks later from the small ice dagger guarding the edge of the roof down to my partner Ryan Stefiuk. I was ecstatic to find even the slightest respite for my completely flamed forearms. We had dialed in a very manageable sequence to get up to and out the roof over a few previous sessions but finding a viable way to turn the lip was proving to be more elusive. We had taken turns all day groveling up into the awkward icy corner above the roof in search of beta that felt right and would allow us to put the whole thing together, but all we were finding was a deep, fatiguing pump. Ryan and I have very different climbing styles. He actually knows what he's doing, while I'm usually busy perfecting the art of flailing. Accordingly, it's not surprising we were arguing about the "best" beta. He was vigorously advocating a series of free hanging campus moves knowing damn well that I'm terrible at campusing while rock climbing let alone with ice tools. Also I'm not nearly strong enough to do the moves he was proposing. I was arguing for an upper grip figure four followed by some foot jiggery and the aforementioned ice knee bar. We were both trashed and had been planning to head home that night but spurred by my new beta and knowing that the ice was likely going to melt out in the next few days, we agreed to give it another go in the morning. Unfortunately the route had other ideas, the ice dagger was gone when we returned leaving a shell of unbonded and fairly useless looking ice above the roof so we immediately set about searching for a new dry sequence through the final moves. Our quick morning send would have to wait.
We returned a few days later for the send, fittingly accompanied by Lucho with whom we who had started the route. That night making the long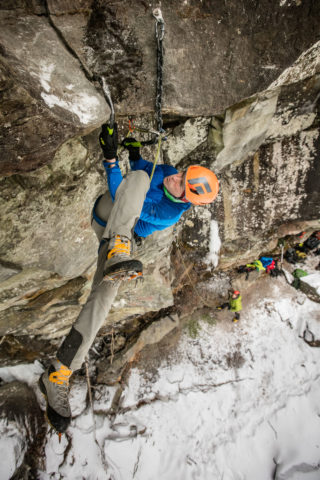 slow drive home, I was blissfully floating along the snowy back roads of the Berkshires. But as I looked back on the climbing days of the previous month I came to realize that it wasn't about the sending. It was about the process, despite seeming so futile in moment, the people who shared in that process and the opportunity to make something to be shared with other climbers. I've read that people are notorious for operating as though the way things are is the way they will continue to be, despite knowing that change is inevitable. Reflecting on that idea, I attempted to appreciate the moment and the fact that I felt incredibly lucky to have a crew of rad climbers who are psyched to go try, just because, and access a place with awesome potential, at a time when that potential is still waiting to be unlocked as most of the routes we've established would've been done years ago were they in a different location. This route sits less than 100 yards from the first route I'd ever established a decade previous. Their physical proximity belying the changes and what feels like completely different lives playing out in between establishing one and the other. Driving along in my heightened awareness of the evanescent nature of life and climbing, my thoughts wander and I start to wonder what the next route will be like.
"Danse Macabre" is located on the Gomorrah Wall of the Upper Devils Kitchen in the Catskills, NY and is currently the most difficult M route in the Cats, more importantly it is arguably the best, being marked by secure powerful dry tooling, graceful movement and perhaps just a touch of grovel.

https://www.neice.com/wp-content/uploads/2018/02/Danse_Macabre-4.jpg
1656
2000
NEice Contributor
https://www.neice.com/wp-content/uploads/2016/10/2012_NEice_logo_oval_blk6-300x103.png
NEice Contributor
2018-02-21 14:23:25
2018-02-21 14:25:44
"Danse Macabre" M10