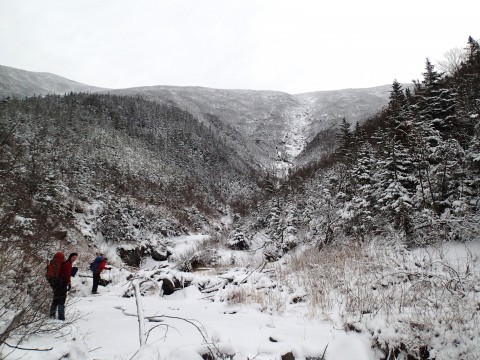 By Courtney Ley
As we know in the climbing world, one woman's Grade V is another woman's Grade II. We try to define the difficulty of the route, the time it takes to climb it and level of commitment it requires by funny little symbols and acronyms.. but ratings will forever be subjective. I even hesitate to say the agreed commitment rating for the longer gullies in Huntington Ravine is a Grade III. Damnation Gully is described as 5 full length pitches of 60 degree ice and snow with a few short ice bulges. Last November, this gully took me all day to go from car-to-car. Last April, it took me less than an hour to climb during my one day enchainment of all the gullies in Huntington. All of Huntington Ravine's gullies change drastically as the ice season ticks on but the grading remains the same. Damnation Gully is a classic line that gets a lot of attention. And well deserved. So are there Grade IV ice climbs in New Hampshire? What about a route that is twice its size with three times the amount of ice? I would imagine it would get the Northeast's spotlight. Or at the very least, some vague description on SummitPost.org.
Last year I climbed the Ammonoosuc Ravine solo and wrote a short tale in the conditions section. It was a long day with more ice than I've ever seen in one place (at least in the Northeast). It was beautiful and challenging. The approach was miles, as was the descent. After I wrote that short blurb last year, I thought about this route more and more. This year, I brought a partner and a rope and I realized how massive this gully truly was when climbed in traditional pitches. After this years outing, I decided the Ammonoosuc deserved its time on the front page.
One of the reasons there aren't climbers flocking to this route may be that getting the Ammo in good condition requires perfect timing. Too late, you are slogging in waist deep snow with barely any ice in sight. (Yes, I've done it.) Too early, you'll find gushing waterfalls off steep wet and snow-covered rock. With such varied weather from day to day during early and even mid season, it is a requirement to obsessively watch conditions. Even then, it's a crap shoot what you'll find. In a way, the Ammo demands commitment even before you reach the trailhead. But when you nail it just right, there's nearly 10 solid pitches of ice and a little under 3,000 feet of elevation gain with almost all of that on the ice. There's also three short headwalls that are no give away. Despite this, I'm surprised an ice climb of that magnitude in New Hampshire hasn't received much attention at all.
To add to the commitment of 10 ice pitches, being in this gully means you are in. It's very difficult in most places to bail out or work your way around the steeper sections. The walls on either side of you are serious. But if you look and are creative you can find good exits. Although once you exit, you enter the thick alpine spruce midway up Mt Washington. Now what? Rappelling doesn't seem appealing, but that's probably just me, because it never seems appealing.
I've climbed this route three times so far. No one told me about it and I didn't read about it anywhere. One day while cyber-vacationing on Google Earth instead of being hard at work in my office, I noticed it and wondered what it would be like in the winter time. I thought I should explore it before too much snow fell, so around the traditional early ice season time, I went for it. The ravine is a spectacular place. It gives you a big-mountain feeling as you continue to climb further up with no end in sight. You won't see anyone else in there. It was a climb that made an impression on me in many ways and I couldn't believe climbers weren't talking about this route. This last time, as I was making the descent out with my friend by headlamp, I realized we had stumbled upon a long, committing and classic line in the Northeast. Yes, what I'd consider a New Hampshire Grade IV ice line.
What a SummitPost entry might tell you:
The approach is about 2 miles and the descent is a little over 4 miles. The elevation gain is 2,900 feet and almost all of that is on the ice. You'll encounter WI2-/+ for the duration and WI3-/+ ice up and over the short headwalls. Once above the ice, you'll have a snow climb for a few hundred feet until you reach the Westside Trail.
https://www.neice.com/wp-content/uploads/2013/12/PC2800791-e1455406870275.jpg
768
1024
Courtney Ley
https://www.neice.com/wp-content/uploads/2016/10/2012_NEice_logo_oval_blk6-300x103.png
Courtney Ley
2013-12-30 00:50:42
2018-09-11 13:40:40
New Hampshire's Grade IV