Happy Holidays from the Harvard Cabin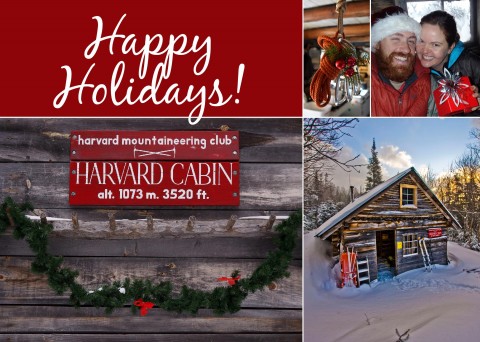 Happy Holidays!
I hope this message finds you well and in good position to share the holiday with Friends and Family. Marcia and I send our warmest wishes for you and yours this holiday season and our hope for the very best in 2014! Thanks so much for being part of our family over the last 4 years. It's sure has been fun. We're are looking forward another awesome winter filled with our Harvard Cabin Friends!
Mountain Conditions – A Winter/Spring Mix!
Well, what can I say? Despite this past weekends weather, it has been a great start to the season! While being a bit less mobile then normal, so far this month I've been able to enjoy a great day climbing the Tuckerman Headwall, another day in Pinnacle Gully, and a few fantastic powder days! It was full-on winter for about a week….super cold too! It was so good to have winter back again! But, don't take my word for it. Check out this sweet little trip report authored by Harvard Mountaineering Club Member and grit stone climbing extraordinaire Dr. Dave Leonard. He very eloquently summarizes the wintry weekend of December 14-15, 2013!
It really should come as no surprise What a difference a week can make. It can be discouraging at times, but I've learned to appreciate my time at the cabin no matter what the weather brings. In the last 36 hours we've seen over an inch of rain combined with the mid-mountain warming layer that seems to be haunting us winter after winter. The combination of the two sent the ravines into Considerable avalanche danger rating across the board all the way back down to Low. Over this past weekend outside air temperatures at the cabin hugged the 40 degree mark at night while the lower elevations stayed at or below the freezing mark. Given the amount of rain and warm temps I'd say the trails did okay. However, for the near future you can expect very slick conditions on the Tuckerman Ravine Trail as the mercury heads back towards more seasonal temperatures.
Visibility hasn't allowed for a recent glimpse into the ravine. Despite being only days away from our first avalanche cycle of the season, I'd expect lots of bare rock and very little snow left in the fan and gullies. Still, I'm sure the ice will be doing quite well and is going to continue to grow throughout the week. Once we dry out up here and get some well deserved Christmas sunshine, the ice climbing should be outstanding! Come willing to chop for good ice placements and be aware of the potential for ice dams to form in the immediacy of such a substantial rain event.
The John Sherburne is still skiable but you'll expect late spring conditions for the time being. If it's any indication, I hiked down to Pinkham today. With that said, I wouldn't anticipate much uphill ski travel this week either. There is only some light snow in the forecast this week with the most potential not expected until Friday. Of course, we've been surprised before….keep your finger crossed, your skis waxed, and traction on your feet! One things fore sure, Christmas is looking like a Bluebird day!
Roof Avalanche – What Can We Learn?
Well, the warm-up did allow me to take care of some chimney repairs on the cabin over the weekend. Of course, this was after both sides of the metal roof avalanched within a few minutes of each other. It was a hazard made known to all guest and thankfully the super-saturated death slab that covered the cabin roof came down early on Saturday. Indoors, away from the perpetual rain, looking through the windows everyone took pleasure in observing the incredibly quick pace at which the slab crept over the eaves. With the steep pitch of the cabin roof, it was amazing to observe how far from the eve the overhanging sheet of saturated, cohesive slab could creep before failing. I have to say, I've seen this every season I've been at the cabin, but this time it was different because of the speed at which instability progressed, measuring from only a few hours prior when we had a very cold, relatively stable snowpack. While we were enjoying the observation of avalanche phenomena far from avalanche terrain on Saturday, it turns out that Lead Snow Ranger/Avalanche Forecaster Mr. Chris Joosen was doing the very same thing down in the valley. Of course Chris could offer-up color-commentary in addition to a wee bit more technical analysis. You can check out his expert review and summary, including video, by clicking here. Very Interesting!
Upcoming Events
New England Ice Festivals
Mountain Fest: January 18-20, 2014 – Keene Valley, NY
Smuggs Ice Bash: January 24-26, 2014 – Smuggler's Notch, VT
Vice Fest: January 24-26, 2014 – Franconia Notch, VT
Mt. Washington Valley Ice Fest: January 31- February 2, 2014 – North Conway, NH
Eastern Snow and Avalanche Workshop – Continuing Education Series
A new program offered by the USFS Mount Washington Valley Avalanche Center and the Friends of MWAC. Free and open to the public the talks are geared towards recreational backcountry users who've already taken an avalanche course or who have significant experience traveling in avalanche terrain. Held monthly at IME and spearheaded by USFS Snow Ranger Jeff Lane. For more details Click here for a flyer .
We Hope everyone has a safe and happy new year!
Rich Palatino & Marcia Steger
Harvard Cabin Caretakers
NOTE – Harvard Cabin is not affiliated with the Appalachian Mountain Club. Harvard Cabin is maintained by Harvard Mountaineering Club for use by the general public. The cabin is operated under a special-use permit granted by the USDA Forest Service. Cabin space and tent-sites are available on a first-come, first-serve basis between December 1st and March 31st each year. Specific instructions for staying at the cabin can be found online at http://www.HarvardMountaineering.org
0
0
NEice Admin
https://www.neice.com/wp-content/uploads/2016/10/2012_NEice_logo_oval_blk6-300x103.png
NEice Admin
2013-12-24 09:12:04
2013-12-24 09:12:04
Happy Holidays from the Harvard Cabin