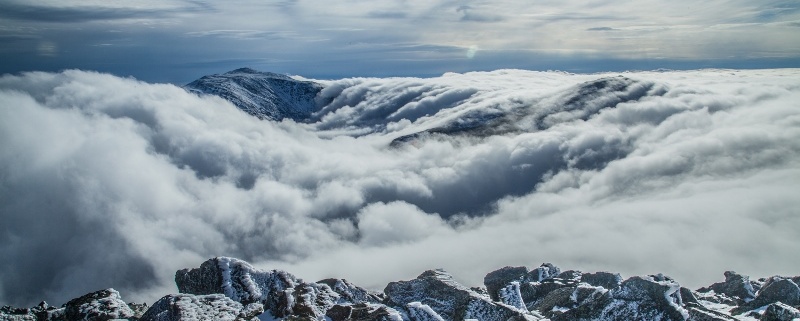 The Expected and Unexpected of Early Season
Splashing through the rushing water currents on the trail did not invoke confidence that anything would be frozen up higher. Still, my climbing partner and I did not slow our pace into King Ravine. We climbed over the countless snow covered boulders trying not to slip into the human eating crevasses as we picked our way towards Great Gully. It was warm and wet. By the time we started our final approach to the drainage in low visibility, I had already resigned to the fact that we would be just out for a hike inside the low lying cloud bank. To no surprise, Great Gully was a mess of rushing water and soft snow.
[singlepic id=731 w= h= float=center]
The floor of the ravine in the clouds. (photo by Joel Dashnaw)
If you are like me, you can't choose your days to go climbing. I'm chained to a desk Monday through Friday and on some weekends I'm working my second job as a photographer. This particular weekend, I only had Sunday free. So despite the rain on Saturday and rising temperatures, I found myself clinging to the desperate hope that the ice that existed a few days before would still be hanging on. It was a tradition for me to get out and climb ice on Halloween weekend. Rather, get out and attempt to climb ice.
---
Related Post: Chronicles of the Overly Motivated
---
I love everything that goes along with being back inside winter's grip. Although nothing is as good as having your mind and body back on some frozen water for the first time, there's always more to it. It's time spent with your climbing partners, or time spent solo. It's time spent preparing and getting the psych up. It's about throwing yourself back out into harsh elements. It's about being in the mountains. On this day, we post-holed through upwards of three feet of blown-in snow as we neared the lip of the ravine. (The type of snow that has that layer of crust that may or may not hold your weight.) We stumbled, stammered and literally crawled our way upwards. We weren't going to climb an ice-choked gully that day, but we were determined to reach the top regardless. As we were about halfway up the headwall, the clouds began to fade and a brilliant blue sky revealed itself.
[singlepic id=740 w= h= float=center]
Leaving the clouds behind us. (photo by Courtney Ley)
Any thought of ice I had was left below me inside the cloud bank. We weren't out there anymore to find ice to climb, or lamenting it didn't exist that day. We were thrilled to experience one of the most outstanding undercasts I've ever seen. Most years, my early season tradition of just 'going out there anyway' finds a reward for me. Some years it's ice to climb. Other years, it becomes something completely unexpected.
Photographs by Joel Dashnaw and Courtney Ley
https://www.neice.com/wp-content/uploads/2016/11/IMG_8097.jpg
533
800
Courtney Ley
https://www.neice.com/wp-content/uploads/2016/10/2012_NEice_logo_oval_blk6-300x103.png
Courtney Ley
2016-11-03 14:38:06
2017-11-01 17:14:05
The Expected and Unexpected of Early Season