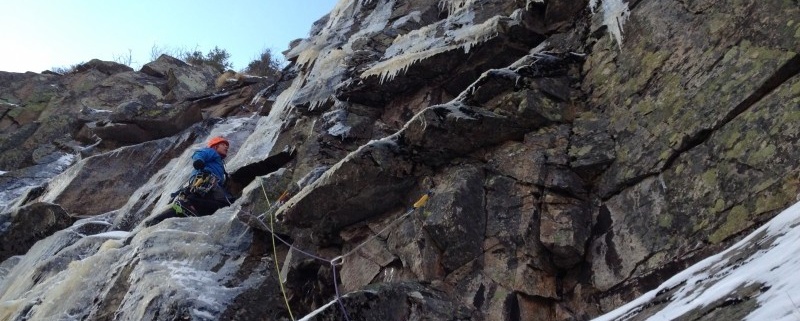 A Dose of Prozac and Some Positive Thinking
By Courtney Ley
Let's get right to it! More noteworthy news coming out of Cannon Cliff again this weekend!
Jeff Previte and Matt Ritter made the second ascent of Prozac on the Omega Wall this past Friday. The mixed route, finishing right of Omega, was first established by Kevin Mahoney and Ben Gilmore in 2002.
Kevin recounts:
"We swapped the leads from the day before. Not because we didn't want to face the same gut-retching second pitch from the day before but because we wanted to share the clarity it offered. Once at our high point from the day before I got to lead the last pitch. This was the lead I had been waiting for all season. The lead that required full commitment and willingness to shake the cob webs free. The lead that would cure my sinking psych. Knife blades with screamers, stoppers heads, marginal cams all added to the mix. I dropped a tool (this was the time of leashes and I was trying the Android leash for the first time) fortunately ben was close by to tag a tool on to the rope. Once at the trees I was different, not the same sulking man that my fiance was wondering if she should marry. Those two days on Cannon had set me right. Ben and I named the new route Prozac. Nine years later I can still enjoy those two days with Ben on Cannon and hope conditions like that come again so Prozac can get a second ascent."
You can find his whole story remembering that day, on his blog post, Around the next corner?
As Jeff and Matt made their way to the base of the climb, Majka Burhardt and Peter Doucette were already on the route. Peter, just coming back from Nepal only 30 hours earlier, was leading the second pitch. Majka and Peter decided to call it a day after three pitches and rappelled down passing by Matt and Jeff. As they continued up, Matt described the third pitch as a "run-out muckle of 'egg shell' ice which gave way to a sketchy mantel and an awkward perch beneath the steep, more solid ice." Sounds fun eh?!
Now they were perched at the Pitch three belay looking up at the last and final pitch which was waiting patiently, as it had for 12 years. The sun was lowering and the cold air began to penetrate their now shivering bodies, but Matt didn't need to think about the next move. He was motivated.
As Matt started up the final pitch he wrote:
"There was no obvious path other than the gnarliest looking corners and roofs which got me pretty excited. Confident, I knew I could make this pitch go. I began by down climbing 15 feet after sinking a Lost Arrow just above the anchor. I traversed left to a stance and climbed a techy vertical crack and T4 (turf ratings) front point placements. Getting situated in a sweet corner below a grooved roof I found a piton and a tiny fixed wire I assume were placed by Kevin. I took a while here making sure not to rush anything. Hooting, hollering, singing Taylor Swift, laughing maniacally, I found myself torqueing micro cracks perfectly designed for pick placements in steep terrain. Tiny cams and wires protected most of the tough bits decently well. At the crux I stopped laughing, and Jeff said he wasn't gonna take my picture again due to the long encroaching shadows. Locking off on a sinker left tool I found myself traversing right out of a shallow corner onto a steep face using elegant and technical foot crosses and a high step to a one inch gloved thumb undercling! A bit of aggressive snarling and soon enough I was in the Krumholz. I found a Spruce or a Fir with an old loop of rope and belayed Jeff up from here. Ecstatic, I thought about Kevin standing at the previous ledge scoping his line. Of the handful of in-obvious options, we had chosen the same path, and how 13 years ago he fished that dinky little wired nut into a constriction and cruised onward. I took a few moments to laugh uncontrollably. When laughter gave way to the largest perma-smile I own, I experienced a deep appreciation for life, for Cannon Cliff, (the old old grandpa cliff) for Kevin and Ben being supremely badass, and for the holistic nourishment these experiences provide."
Nice work guys! To read his entire account of the day, check out his report on Walkabout Wild.
If you are still feeling the symptoms of Seasonal Affective Disorder after that dose of Prozac, here's some Positive Thinking!
The next day, over in New York, Jeffery Dunn and Bryan Kass climbed Positive Thinking at Poke-O in 90's fashion. The route in early season mimics the days when the ice rarely touched the ground. They pulled some Patagonian-style tricks out of the bag and had a little fun with it along the way…
Positive Thinking – 2014 from Pig Helmut on Vimeo.
It seems climbers everywhere were heading to the hills this past weekend, taking advantage before the warmth and rain hit during the early part of this week. Check out the Photo page for what got done.. including some sweet shots at Lake Willoughby! In Crawford Notch, Mt. Willard offered up a taste of ice and in the Adirondacks, the climbs at Chapel Pond froze long enough to see some action.
Now if we can all sit still long enough, waiting for the warm front to move out of here and the cold to return later this week, who knows what we'll find!
~ Special Thanks to Majka Burnhardt, Peter Doucette, Jeff Previte, Matt Ritter and Jeffery Dunn.
https://www.neice.com/wp-content/uploads/2014/11/pitch4-e1416967662708.jpg
600
800
NEice Admin
https://www.neice.com/wp-content/uploads/2016/10/2012_NEice_logo_oval_blk6-300x103.png
NEice Admin
2014-11-25 22:16:11
2017-11-22 00:03:05
A Dose of Prozac and Some Positive Thinking