Poko-O-Moonshine – Adirondacks, NY
01/14/2011
Adirondack Mountainfest 2011
Story Up-Date 1/20/11 from Bayard Russell
True to Mountainfest tradition of establishing new climbs, Bayard Russell, Matt Horner & Matt McCormick established – "Endangered Species" M6+ NEI5+ R. The climb is just to the right of Jeff Lowes legendary line "Gorillas in the Mist".
"It's so cool that, after all these years, the Northeast continues to generate some of the most exciting winter climbing in the country" – Dougald MacDonald
We were treated with photos and a video of the ascent Sunday night at Matt McCormick's slide show. A very impressive climb by some very motivated and committed climbers. Well done. See the video..
Many attempts over the years have been made on this section of cliff . Lack of good ice has always blocked the way. Back in 2008, Matt Horner tried the climb in an after-work ascent where he ended up lowering off his tools in the dark, that was the best anchor he could build in the thin, candled ice (see photo).
See Fifty favorite climbs: the ultimate North American tick list By Mark Kroese for information on Gorillas in the Mist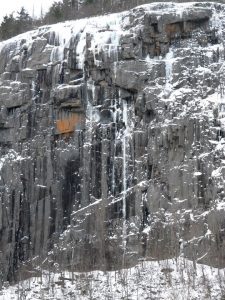 The Big Wall section of Poke-O. The thin strip of ice is the new route "Endangered Species". Photo by Jim Lawyer
More on the NEice Forum
Source: Matt McCormick, Matt Horner, Bayard Russell, NEice Forum, Facebook & Climbing.com
Story Up-Date 1/20/11

"There are a couple of things that we did do, and a couple of things that we didn't do; here's the deal" – Bayard Russell


https://www.neice.com/wp-content/uploads/2011/01/Gorillas-Smile1.jpg
640
480
NEice Admin
https://www.neice.com/wp-content/uploads/2016/10/2012_NEice_logo_oval_blk6-300x103.png
NEice Admin
2011-01-19 00:25:41
2017-10-31 01:58:52
Endangered Species