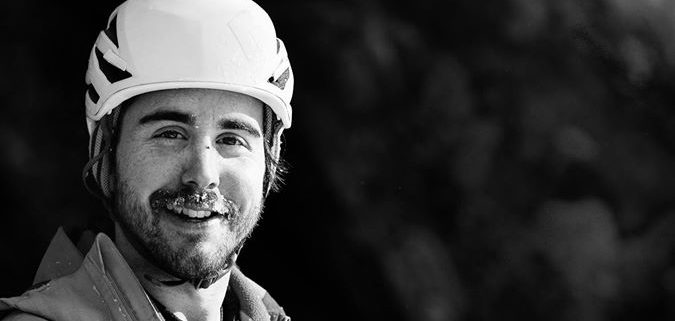 Roped Up: With Zac St. Jules
It starts as a series of fully inverted moves right from the ground. Zac hangs from ice tools perfectly planted into the cracks along the rock. The placements are solid and his body is relaxed despite the muscle strain. Climbing up the overhanging wall, the teeth of his ice pick hang more precariously now from their placements as they become less secure the farther up he goes. His muscles tense as he takes too much time finding stable places for his crampon points. Still several moves away from the hanging icicle, Zac lets go.
"I'm pretty inspired by routes that don't get climbed much. I think routes that require incessant vigilance on conditions are really cool because they demand focus on something that may never materialize. That just seems like a really sincere approach to the adventurous side of climbing."
Zac St. Jules
Meet Zac St. Jules. If you don't know him, you will soon. He's young, motivated, and he's going after the hard mix lines that New Hampshire has to offer. Zac was born and raised in the rolling hillsides and farmlands of Ontario and moved to the States in the summer when he was 15. Three years later, his soon-to-be wife and father-in-law took him climbing for the first time on some small flows near Humphrey's Ledge. Although he didn't start climbing on a regular basis until he was 22, he was deeply moved by the mountain landscape of New Hampshire. "My wife talks about how when I first moved to New Hampshire to be closer to her, I didn't have friends here. She says that the mountains became my friends. The same time I fell in love with her, I fell in love with the mountains."
Living in Moultonborough and working for a footwear company in North Conway, Zac gets out whenever he can, not leaving a second to waste when he could be out in the mountains. I was climbing with a mutual friend, Billy Bevans when Zac came up in conversation. He tells me, "So Dave and I are decked out in our winter climbing gear. I mean, we have our battle gear on and we are ready to tackle Pinnacle Gully and everything that could happen up there. And then I'm talking with Zac about a strategy to do the line, and he has New Balance track pants on and I'm trying to focus on our plan but I can't keep looking down at these track pants. Zac leads the first pitch, always solid and calculated. I meet him at the belay and then he announces it was time for him to go to work. So he just raps down and walks out alone, wearing his clothes for work!"
"[..] he has the talent to back up the confidence. It manifests itself in his body language when he climbs: efficient, poised, and no hesitation." -Phil Schuld
Over the course of his short four year history, climbing moved from a hobby to a passion very quickly. "Climbing has a significance to me and carries a certain weight in my mind, that other things do not." The sport caters to his goal-oriented mindset. He finds his grounding in the pursuit and importance of obtaining real, positive implications for setting a goal and reaching it. This year, he's set some high ones. Seeking out hard mix routes in obscure areas has become his style and he's getting good at it. "Matt Ritter and Phil Schuld have been inspirations to me in that department. They have both been people in my life that motivated me to not just do the same ole routes."
I caught up with Phil to gain some more insight into what makes Zac tick. He wrote me, "Zac's confidence has always inspired me to be a better winter climber. It's sometimes tough on the ego to climb with somebody like that, but I think all of his partners would agree that his confidence and optimism are contagious. If you spend a day climbing with Zac, you'll get up something. And that something will likely be really cool." Phil continues, "I remember the first time we went out winter climbing, at the Ace of Spades area in Franconia Notch, this fact was quickly driven home. I spent a lot of time hemming and hawing about leading the Ace of Spades, which would be my first proper grade 4 lead, all the while, Zac just ate up every possible line you could take on this climb, culminating in a mixed lead of a very thin, steep curtain. I didn't even see it as a possibility, yet Zac just sauntered up it. That memory really sticks out to me because as a newer winter climber, it showed me what was possible. I suppose this also goes to show that he has the talent to back up the confidence. It manifests itself in his body language when he climbs: efficient, poised, and no hesitation."
Pocket Rocket (M9+) is a short but stout route on what was named Slander Crag, tucked away on the northwest side of Lower Baker Pond and first scouted out by Freddie Wilkinson around 2003. "Slander Crag was Freddie's stash." Bayard Russell recalls, "He'd seen it driving back and forth from Dartmouth to North Conway. He used to come and stay with Josh Hurst and I in our apartment behind the Discount Bev in town. Later, Freddie and I were the young guides at IMCS. Kevin Mahoney and Ben Gilmore also worked there and we thought they were really cool, obviously. Freddie somehow talked them into coming over to this little crag with us, an hour and half away, without ever having been there himself. It worked out and we got pretty psyched about the place."
Phil was with Zac on a very warm day in December 2015 as they stood beneath Pocket Rocket. He remembers, "As I scratched my head wondering how something like this could possibly be climbed, he went up there and figured it out. I think this route, among others, was the impetus behind his push toward an emphasis on physical training. He may have an innate sense of self-confidence, but I think he knew he had to put some work into the fitness aspect in order to take down these hard mixed lines. And two years later, he's done just that with his recent sends."
"I first tried Pocket Rocket my first year ice climbing and every year since with comical outcomes." Zac recalls. In order to be able to send routes like Pocket Rocket, he knew he needed a lot more physical and mental training. His mental energy would be spent finding a way to feel comfortable on moves that don't always feel secure, and part of accomplishing that is getting and feeling stronger. Zac built a climbing wall in his backyard and through the summers he would spend an average of an hour a day on the wall doing various endurance and power training exercises to build the fitness he needed to reach his climbing goals. "When the colder weather hit, Erik Howes and I went to Slander, and I found myself at the top of Pocket Rocket where the ice would normally be, feeling pretty fresh. It's a good feeling to know that your training has paid off."
One of the first routes at Slander Crag was Poached Eggs, which has a steep M7 crux. Kevin Mahoney and Ben Gilmore put it up in trad style with a lot of ice and rock gear placed on the lead. Bayard remembers, "They used to climb with ground down sky hooks bolted onto old Black Diamond Vipers and lashed with hockey tape for a second grip." Meanwhile Freddie and Bayard were working on other routes which were all very short and done in a very traditional way, despite the fact they were establishing steep mixed routes to hanging icicles. A lot of the bolts hand drilled on lead, without a drill, just a bit and an ice ax. "Either Freddie or I would go up, start drilling, whomever was on the ground would tie them off to a tree and wander off. I remember once driving to Plymouth to try and find a new bit while Freddie was hanging upside down in slings, hand drilling. When I got back, he was still hammering away."
Pocket Rocket was the last route that Bayard Russell did over at Slander Crag. It was bolted over a few days, partly from the ground up because of its steepness. Sean Issac was the first person to send it, in heel spurs. After that, Bayard and Kevin went back and topped out as well. Now, 15 years later, on a freezing cold New Years Day, Zac St. Jules and his crew start up the hill to the crag. As the sun began to thaw out their bodies, Zac warmed up Pin Head, an M6+ on the right side of the cliff. "I examined Pocket Rocket a little before I got on it. I looked at which section of ice I was going to join up with, and if it seemed stable. I checked what bits of ice I may need to knock down while I was up there. I didn't really go over the moves in my head except for the very last one." He knew there was a hold that would be helpful in transitioning to the ice but I couldn't remember where it was. "I violently swung my hands for several minutes before I started up. I wanted to make sure my hands were as warm as they could be before getting on it. I had my tools inside my jacket to keep the handles warm. I even considered starting a fire to warm up my tools!" The lower part of the route went quickly and Zac was now facing the tough transition from overhanging rock to vertical ice. He would snake up between two hanging ice daggers, but to get to it, he'd had to knock down the ice blocking his way. He felt his muscles beginning to fail as he hung for a long minute excavating his exit. Once a passage was cleared, it took several swings to get a stick through the tight space between the two ice flows, but he made his way safely on to the ice. The ice was in good condition and he even managed to get a screw in. Once he clipped, he knew he was only a few easy swings from the top of the climb.
Zac St. Jules. Pocket Rocket (M9+). January 1, 2018. Photography by Brent Doscher.
Zac is a husband and father of a son with another child due in February. When talking about his wife, Sarah, "She is unbelievably supportive." After his successful ascent of Pocket Rocket, Zac walked away knowing how much his training pays off. All the elements needed to bring his climbing to the next level have come together for him this year. He enjoys putting all of his energy into one route and the physical and mental commitment it takes to reach the top. As far as his next project? "I've got several routes on the ticklist but don't want to talk about them too much." Looks like we all need to stay tuned!
Special Thanks to Zac St. Jules, Brent Doscher of Brent Doscher Photography, Phil Schuld, Billy Bevans and Bayard Russell for providing images, words and insight for this article.
https://www.neice.com/wp-content/uploads/2018/01/zac-portrait.jpg
480
675
Courtney Ley
https://www.neice.com/wp-content/uploads/2016/10/2012_NEice_logo_oval_blk6-300x103.png
Courtney Ley
2018-01-15 16:25:20
2018-01-18 14:02:52
Roped Up: With Zac St. Jules