LOSING WEIGHT FOR THE NEW YEAR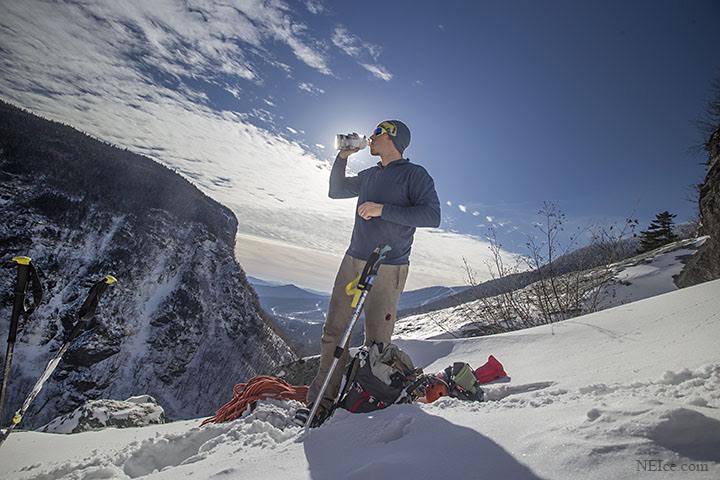 ---
– By Alden Pellett
M
y leg plunges through the crust into the waist-deep snow again. I fight to keep my balance on the slope but find myself in an embarrassing situation: my pack pulling me over backwards, my arms flailing, I am wallowing upside down and swimming in a heavy layer of powder. It's not my first rodeo post-holing up a steep approach to ice climb in Smuggler's Notch, Vermont, but this time my pack feels three times heavier than usual. It's the start of a new year, and like many people traditionally do, I had my New Year's resolution. I resolved right then and there, I needed to lose some of this weight.
Unless you're gearing up for a big objective in the Himalaya, the key to success with this gear-intensive sport here in New England often means keeping things as light as possible.
So, just because you're climbing a two to three pitch route at the local crag doesn't mean you shouldn't bother keeping the weight off. NEice talked with some of the top guides in the region to hear some of their insights. We've gathered a list of tips and tech stuff that hopefully helps you with your own climbing resolutions this year.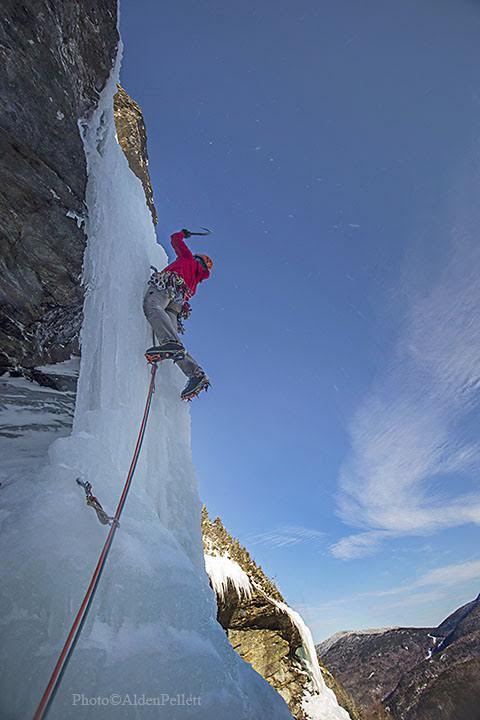 A week ago, I stood with IFMGA guide Silas Rossi, owner of Alpine-Logic in New Paltz, N.Y., below "Mindbender", WI5+, at Lake Willoughby. We peered up at the unrelenting steepness and started getting ready to swap leads up some fairly mean-looking terrain. If there is one place in the Northeast that gets you sweating just thinking about how heavy your rack is, it's there.
With that in mind, Silas offers up this bit of advice: "Do more with less. A lot of people carry too much on their harness. Three lockers, a belay plate, a cord, and a 4′ runner. A prussic loop and your rack and draws should suffice most of the time."
I caught up with another one of the strongest climbers and guides in the East, IFMGA guide and Piolet D'Or-nominee Kevin Mahoney to get his take on how to improve on my slimming New Year's resolution. When it comes to mixed terrain and keeping it light, Mahoney says to go for the Ultralight BD cams. When on ice, he explained, he pares things down even further by sizing down screws and carrying more of the short 10cm rigs.
AMGA Rock Instructor and Assistant Alpine Guide, Matt Shove, who runs Ragged Mountain Guides in Plainville, Conn., echoes Mahoney and Rossi, recommending the lightest in new carabiners and slings. To paraphrase Matt, if you're carrying around ten-year-old carabiners, it's time to upgrade. Matt is also pretty enthusiastic about one of his favorite lightweight tools, the J Snare. "It's the lightest 'V' thread tool. There are no sharp points, so it won't shred your pack, your expensive belay parka, or more importantly, your lunch." In fact, we at NEIce are witnessing many guides putting this baby on their racks this winter!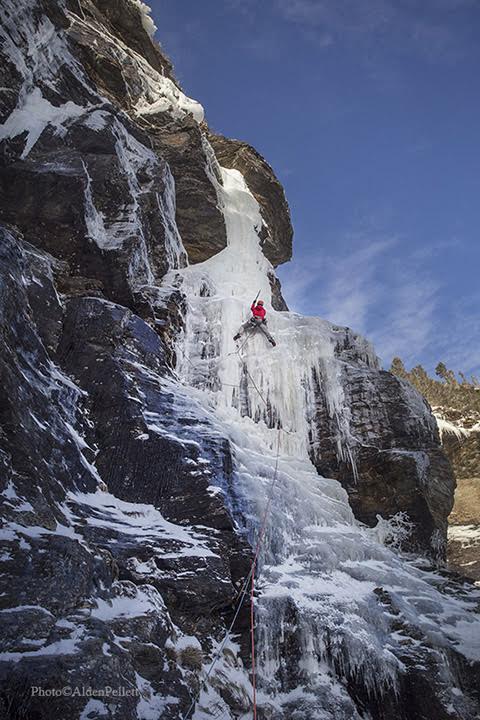 Perhaps Rossi sums it up best, "Update to modern gear, everything from carabiners, runners, screws, clothing, boots, crampons." Today's new equipment, he says, "…keeps getting lighter and lighter."
LIGHTEN UP FOR THE NEW YEAR
SCREW THAT!
Petzl Laser Speed Light screws: These babies are sharp! They bite into ice ridiculously fast and weigh next to nothing. They cost more than others but on a long pitch or route, the weight savings is really a game changer. Some of our test guides say they don't seem as durable over time as the Black Diamond's Turbo Express screw, but for 'fast and light', there is really no substitute.
https://www.petzl.com/CA/en/Sport/Anchors/LASER-SPEED-LIGHT#.WGvuQFwsLAM
ALL TIED UP?
Mammut Twilight 7.5mm ropes: Got the feeling that your rope is trying to pull you off the climb? At 38 grams per meter, you'll shave some real pounds off the trek towards that big route with the latest in skinny ropes. At times on some difficult ice leads, I've almost forgotten I have these tied to me.
Beal makes an even skinnier set of ropes: their Gully 7.3 Unicore ropes. Regardless of the brand, these thinner models thread nicely into the ice for rappels, leave no trace, and make carrying extra cordage up a route for descents almost obsolete.
https://www.mammut.ch/US/en_US/B2C-Kategorie/Equipment/Ropes/Half-and-Twin-Ropes/7-5-Twilight-Dry/p/2010-02760-1144
SUSPEND DISBELIEF
Patagonia Galvanized pants: Superlight with all the features an ice climber needs including suspenders. NEIce founder and longtime gear tester Doug Millen says he's run these pants all over the White Mountains this season already. From soloing long easy routes to beating them through deep snow approaches, they've performed for him, no complaints.
http://www.patagonia.com/product/mens-galvanized-pants-for-alpine-climbing/83155.html
KEEP THE STOKE HOT
Stanley Adventure Stainless Steel 17 oz. vacuum bottle: Personally, this is one tool I won't ever go without on a cold day of ice climbing. At under a pound dry weight, I bring it up anything longer than a single pitch. A good cup of hot honeyed ginger tea before leading up a steep pitch is worth its weight and this is a sweet rig that takes a beating. Stanley also offers larger sizes but this fits right in my ruck alongside my puffy belay parka.
http://www.stanley-pmi.com/store/stanley/en_US/pd/ThemeID.39334800/productID.324175400
LOCK IT DOWN
Lightweight carabiners: There's so many now that it's hard to pick just one brand. Petzl's Attache' locking carabiner is a popular one, and at just 56 grams, it's a keeper. Pair one of those with Mammut's Wall microlocks (47 grams) for safe clip-in points at the belays and you might start seeing the slim results in the mirror. DMM also offers a super light version: The Sentinel MS locker ticks in at 54 grams. Like I said, there's a lot of choice out there. For this category, it won't hurt to take a trip to your local gear store and watch the pounds melt off your rack.
Petzl Attache' locker
https://www.petzl.com/I/en/Sport/Carabiners-and-quickdraws/ATTACHE#.WG1NCFwsLAM
DMM Sentinel HMS locker
http://dmmclimbing.com/products/sentinel-hms/
Mammut Wall Microlock
https://www.mammut.ch/US/en_US/B2C-Kategorie/Alpine-Climbing/Mixed-and-Ice-Climbing/Wall-Micro-Lock/p/2210-01260-1502-1
Alden Pellett, Photographer
www.aldenpellett.com
https://www.neice.com/wp-content/uploads/2017/01/Alden-Story-Cover-Image.jpg
480
720
NEice Contributor
https://www.neice.com/wp-content/uploads/2016/10/2012_NEice_logo_oval_blk6-300x103.png
NEice Contributor
2017-01-06 00:13:10
2017-11-28 16:35:49
LOSING WEIGHT FOR THE NEW YEAR