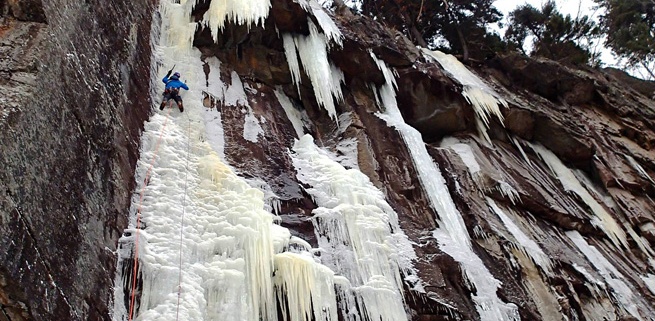 Back to Business, Round Two!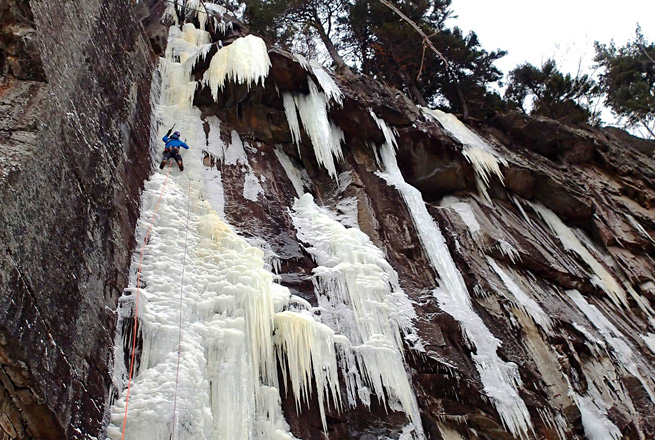 W
ell things are shaping up, again. It has been two weeks since the major melt down and the ice climbs are forming and there is plenty of great climbing.  We now have more ice to climb than before the meltdown. There is plenty of ground water flowing and things are growing fast. With no warm weather in sight, I expect good to excellent conditions from Maine to the Adirondacks and South for the foreseeable future.
This weather is greatly appreciated as we enter the Ice Festival season. Every year it's a crap shoot with the weather and we are lucky this year, so far. By next weekend there should be plenty of ice for the the 19th annual Adirondack International Mountainfest. January 16, 17 and 18, 2015.
So dress warm, get out, and get some!
Doug Millen
Adam Bidwell on Cocaine, Frankenstein Cliff, Crawford Notch NH
Photo by Ryan Driscoll
---
Frankenstein Cliff NH
You know things are good when the south face of Frankenstein Cliff has ice to climb. Below are a few photos from Adam Bidwell with Ryan Driscoll

---
Beware of  the cold temps
When it's this cold after a warm up, watch out for ice dams. Both on the climbs and in rivers and streams. Below are two posts that will make you think.
NEice.com – Hydrophobia at "The Lake"
Careful of that stream crossing!
---
Assessing Ice Conditions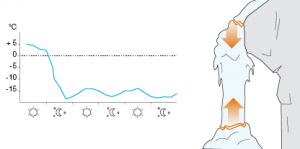 And don't forget that drastic cooling followed by a period of intense cold leads to strong thermal contractions in the ice. See this great information for assessing ice conditions from Petzl – Waterfall Ice Study
---
Ice Guide Training
The American Mountain Guides Association Ice guide training course in NH is in full swing. The EMS guides are sending the steep ice routes at Frankenstein which are in good condition and building fast with this cold weather. – Art Mooney
---
Mount Washington
Conditions Update 1-8-15
by Rich Palatino, Harvard Cabin Caretaker
The Tuckerman Ravine Trail is nearly completely covered. While it is very hard-packed and slick there is very little water ice to speak of. Light Traction is nice, but not necessary in the least. That being said, full crampons on the trail wouldn't be unreasonable, just not advised…or enjoyable.
The fire road is still in rather early season condition. However, it is mostly snow until you are above the Dow Rescue Cache where you will find a series of stream crossings. Again, nothing major. Access to the ravine is quick and easy and the rangers have been using snow machines to travel most of the road.
It's goes without saying, the ice is IN! The Ravine is still filling in for the season. Run-outs are far from being fully-developed and in many cases descending will mean a walk down the Lion Head Summer Trail. The Fan is sporting a variety of snow conditions as you travel from gully to gully. Overall you can expect excellent condition for cramponing. However, along with long sliding falls, spatial variability can present a problem. Don't travel with a persistent green light in mind even though things seem locked up solid. We've been getting nickled and dimed for weeks so you should be on the look-out for protected lee areas, wind slabs of varying strengths, buried weak layers, and I personally have been starting to worry about persistent weak layers. I'm really not sure how valid my concern for persistent layers is, but as a skier I'm suspect of the rapid heating and cooling we've seen over the last few weeks. I'm keeping that in mind as I travel in avalanche terrain until we see the next major storm/avalanche cycle. But, you really don't have to take my word for it. Luckily you can hear what the experts have to say via the Mount Washington Avalanche Center's website and it's many social media outlets.
---
https://www.neice.com/wp-content/uploads/2015/01/Ryan-Driscall-Adam-Bidwell-climbing-Cocaine-Cover-Web.jpg
440
655
NEice Admin
https://www.neice.com/wp-content/uploads/2016/10/2012_NEice_logo_oval_blk6-300x103.png
NEice Admin
2015-01-08 20:27:08
2017-12-06 21:20:53
Back to Business, Round Two!