---
Meet WooKong 3.0
The Beast of the NEice Fleet – Built to meet the demands of flying, photographing and filming in the winter weather of the Northeast.
After two winters of building, flying and filming with RC helicopters, I have learned a lot and had a ton of fun. But, it wasn't enough, I needed more. I needed a better machine to complete my dream. I realized first I needed a better camera. The Gopros are light and very durable and have served us well, but they have many shortfalls. The lens is too wide. It leaves climbers looking like they are a mile away unless the drone is right on top of them. The camera is also not good in variable lighting conditions. It can't handle fast changing or low light, where the only settings you have for creativity and enhancement is 'ON!' Here is where the Sony NEX-5N is far better.
"I needed a better machine to complete my dream"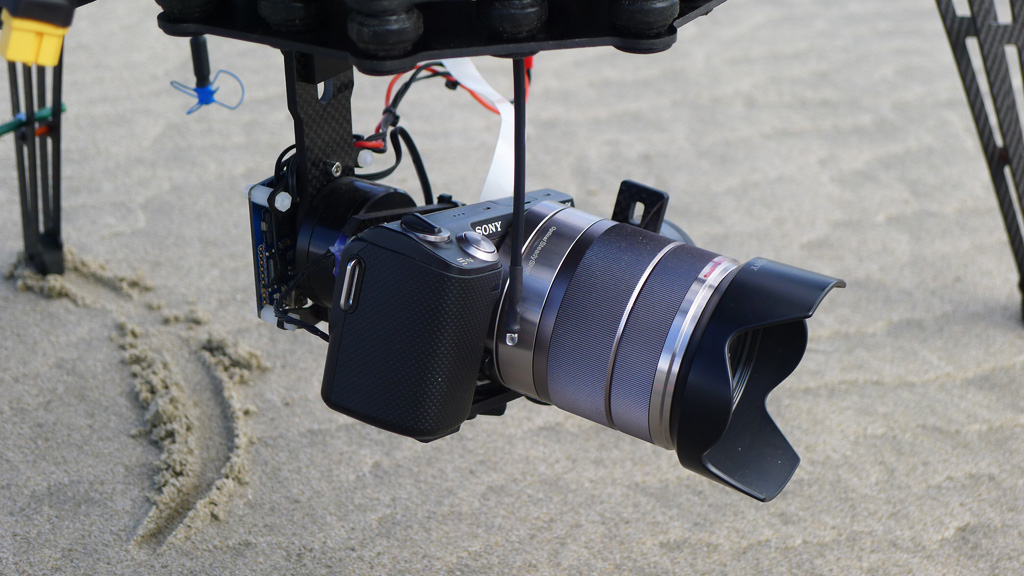 The Sony NEX-5N 16.1 MP
This new camera is great. It gives DSLR quality still images up to 10 fps. When it comes to video, it pulls in full AVCHD at 60p with a 16.1 MP Exmor APS HD CMOS image sensor. A Sony E-mount 18-55mm F3.5-5.6 lens rounds out this camera set-up providing NEIce with the lightest DSLR quality camera you can put in the air. I can now point the camera up or down, rotate it, take a photo and turn on and off the video, seeing it all from my radio controller. Finally, I feel like I can properly film the action I have been dreaming of. The difference in quality still amazes me!
Last year we just turned the GoPro on, sent it up and hoped for the best. Courtney Ley, who edits footage for us, will be excited this year. With the remote I can activate video recording whenever I want to start and end, eliminating all the takeoffs, landings and other useless footage, saving her hours of editing time in front of the computer.
The still images are just as exciting, with the cameras' ability to shoot RAW and JPEG Fine files simultaneously. Plus, good photos require good glass. I now have many options with the wide variety of Sony E-mount lenses available.
But, getting the new camera also meant I now needed a bigger helicopter to lift it. Putting all I have learned into this new build, I considered many factors in the new design – wind, power, reliability and flight time. The machine is a dream to fly and fulfills everything I have been looking for, lifting the Sony Nex5N with ease. In the past, wind was one of the biggest problems we encountered at the crags while filming. I have flown the new WooKong in 25+ mph winds without a problem. You can see this was not the case with early models as this footage in Huntington Ravine reveals.
With eight motors spread out above the Sony, I now have reliability and lift. I can lose an engine without crashing dramatically into the ice and hemlock. As entertaining as it might be to watch, it's usually not ideal footage. Many pilots flying Octocopters report not knowing that an engine was out till they land. As the gear and cameras get more costly, redundancy and backup of critical components becomes more important.
Now that I had the increased power I wanted, came the need for bigger batteries. I decided to invest in three 16,000 mAh batteries ($250 ea) that will give our bird 10 minutes of flight per power pack – twice as long as Wookong 2.0. That's plenty of time to film what I want and …believe me, when flying in the cold and snow, 10 minutes can seem like an eternity.

The Black Pearl 7″ High Definition LCD Screen
Last year, I found the goggles were too restrictive and hindered my ability to keep the helicopter safe and out of trouble. So, with the new rig on the flight pad, a new way of keeping connected with what was going on in the air was needed. A new high definition monitor is my dashboard and the OSD (on screen display) system gives me vital feed back, such as height, speed, rate of rise and descent. That's right, now I can compose the photos and video from the ground, and still keep an eye on the conditions around me. I can also double-check the camera information to make sure I am shooting with the right settings.
Since it first lifted off early this summer, I have logged over 100 flights with WooKong 3.0. Posted below are a few photos I have taken during tuning and testing. The photos and video just keep getting better with more training flights. I am light years ahead of where I started two years ago with smoother video and sharper stills. I can't wait to start filming winter and ice climbing in the Northeast and bringing it to you here at NEIce.com. UP!
Work in progress: I am configuring a new gimbal that will have different settings for different lenses and a finer resolution.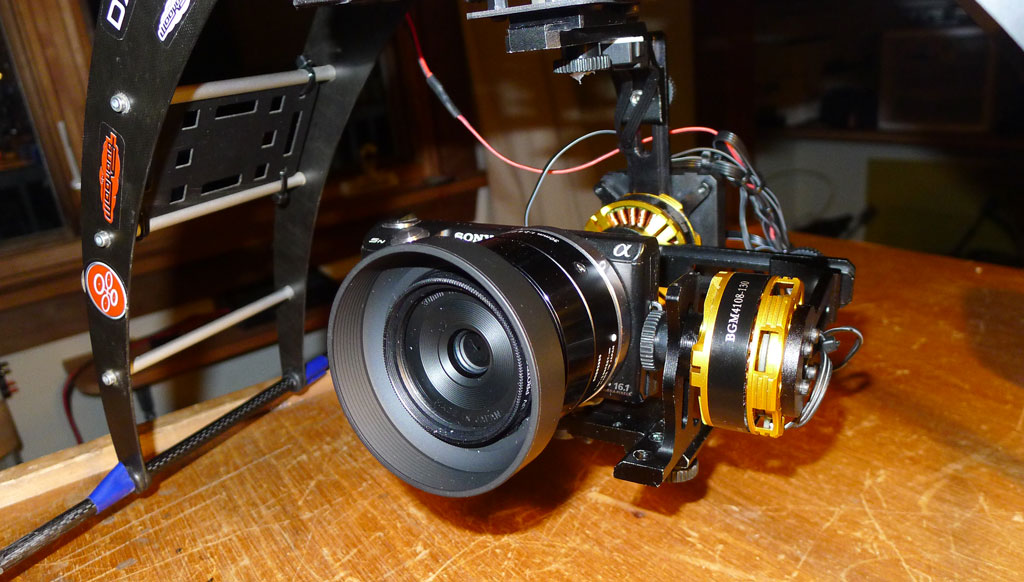 ---
WooKong 3.0 – Some Test Photos
*Click photos to enlarge.
~Doug Millen
---
https://www.neice.com/wp-content/uploads/2014/11/Wookong.jpg
576
1024
NEice Admin
https://www.neice.com/wp-content/uploads/2017/10/2012_NEice_logo_oval_blk6-1024x350-300x103.png
NEice Admin
2014-11-10 19:39:46
2018-03-27 17:17:18
More Power!