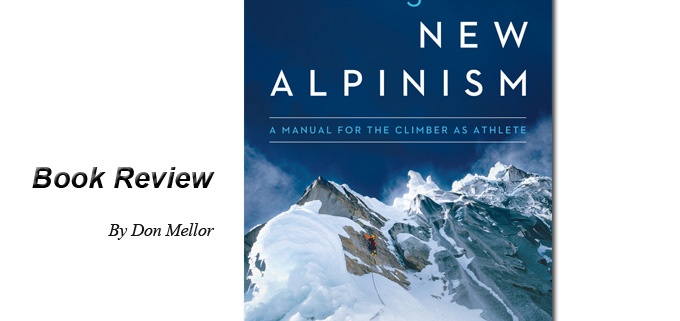 TRAINING FOR THE NEW ALPINISM
Book Review
by Don Mellor
October 2014
I just finished reading Training for the New Alpinism, and I'm feeling equal parts inspired, enlightened, and useless.
It's a book that does just what it promises: it explains in scientific detail what it takes to be an elite athlete in today's mind-stretching world of alpine climbing.
The technical density of the book came as a surprise to me. Maybe I was expecting some rehashed advice about running stairs or lifting weights. My BA in English Literature didn't really prep me for the science, and so I had to read it twice just to get hold of some of the concepts. A third time wouldn't hurt, either.
Interspersed among the technical chapters, however, were high-octane adventure stories about the 'research" behind the instruction. Here Ueli Steck tells us that he's a control freak and that his two-hour forty-seven minute dash of the Eiger North Face was not some spur-of-the-moment antic; nothing, even the weather, he says, was left to chance. Mark Twight weighs in about his initial crush on CrossFit training, his own failed attempt to find a quicker route to fitness, and his ultimate admission that Scott Johnston was right about the relationship between endurance and intensity training. TINSTAAFL is the title of Twight's essay about the importance of realizing that There Is No Such Thing As A Free Lunch.
This is all about what they call "the new alpinism" It's hard for a lot of us even to conceive of the mountain marathoning that's going on out there. Eiger North face in less than three hours. Six days of continuous climbing on North Twin (in winter, after dropping a boot from half way up and finishing in an inner boot wrapped in athletic tape!). Eight days on the Rupal Face of Nanga Parbat, the world's highest wall. Enchainments. Speed climbing. Gobbling up more hard climbing in less time and with less gear than we ever considered sane or possible.
This "new alpinism" isn't following a line of fixed ropes as you push to higher and higher camps, acclimatizing on your way. Nor is it working some 5.13 flared crack above a port-a-ledge on El Cap. "New alpinism" is putting on a 35-pound pack and climbing non-stop till you get to the top. Sometimes you might grab a little shivering nap or maybe fire up your stove. But a lot of the time you just push on, telling your body to do stuff that most bodies can't imagine.
Thus, this book is really the first to examine the distinctly more complex training requirements to make those bodies capable. And this is just it: changing our bodies – the capillaries and neurons, the muscle fibers and cell structures, altering things we may never even have heard of.
A little about the authors:
Steve House – If you really need me to provide his bio here, you don't want this book. Just go back to your Facebook page.
Scott Johnston, on the other hand, iisn't well known to most recreational climbers. Even though he has a proud resume of Himalayan and Alaskan mountaineering, he comes mainly from the world of swimming and Nordic skiing, both at the World Cup competitive level and as a coach. Most of us know that cross-country ski racers are probably the fittest athletes out there, and so his research and perspectives are absolutely applicable to alpine climbing. If ever you are in the Adirondacks and want to take a day off from ice climbing, go check out the college kids training at Mount Van Hoevenberg. You'll come away feeling flabby.
House and Johnston make it clear that this isn't just upping the reps or increasing the mileage – it's a new game, one that doesn't come without a huge investment. Nor it is intuitive. They make it clear right in the beginning that, "three forty-five minute Stairmaster sessions a week" will not do it. Instead, it takes a disciplined and difficult regimen of training that will alter both the anatomical and neurological structures of the alpine athlete. Like it or not, they say, "your results will be proportional to the time you spend in preparation."
So much for the pep talk. Now comes the bulk of the book, the science and the reasoning behind a methodical and purposeful training routine. That preparation cannot consist solely of Great Range runs or maniacal gym workouts.
House and Johnston begin with the basic aerobic – anaerobic dichotomy, moving logically through the fuels of fats and sugars, the human body's "functional and structural" adaptations to stress, strength training, periodization, and nutrition. These pieces come in logically sequenced, well explained packets, and most are supplemented by real-life experience as empirical support.
Again, the science is complex and I'd probably screw it up if I endeavored to summarize. Let me instead list some of the salient points that I'll keep in my own training mind:
* It's all about duration and frequency, not intensity. Maybe ninety percent of our training ought to be at a pace where we can still have a trail conversation.
* General training is every bit as important as specific training.
* You can't try to maintain peak-level fitness for any length of time; instead, you must aim to reach your peak fitness just in time for your project.
* Recovery takes a long time. House tells of having to bail on a big Himalayan route because he hadn't fully recovered from Nanga Parbat a full twelve months earlier.
* Endurance exercise burns fats. Intense exercise burns sugars. Every high-intensity burst is really costly, as it switches the fuel over from fats to sugars, which aren't so plentiful in storage.
* Keeping records helps.
* Be patient. Progress is gradual and it results only from the cumulative effect of many, many hours of productive work.
I wonder how many of you NEICE.COM 'ers are actually aspiring to do the high-end routes in Alaska or Patagonia. I wonder if most of you (like me) are instead thinking about a winter scoot along the crest of the Presidentials (those aren't yeti tracks – Alan Cattabriga came by before breakfast) or maybe you want to take a whack at Emilie Drinkwater's time on the Adirondack Trilogy. Whatever the goals, I think the House / Johnston book would do you well. Your pack might feel lighter, and the route might feel easier. And you might just make it back for happy hour.
Now a small complaint. Every time I would sit down to write this review, I'd find myself so inspired (OK, a little shamed as well) that I'd put it down and go for a short speed hike up a little rocky bump near my house in Lake Placid. It happened again today. The wind on top was pushing me around a bit, the year's first snow pellets were biting my face. But no shit, there I was, alone, eyes closed, fantasies flipping back and forth between House's climbs on the world's big peaks and my own plans for an early season run on Agartha.
TRAINING FOR THE NEW ALPINISM
Steve House and Scott Johnston
Patagonia Books, Ventura California 2014
Buy TRAINING FOR THE NEW ALPINISM at The Mountaineer
---
https://www.neice.com/wp-content/uploads/2014/10/TFTNA-Featured-Photo.jpg
465
680
NEice Admin
https://www.neice.com/wp-content/uploads/2016/10/2012_NEice_logo_oval_blk6-300x103.png
NEice Admin
2014-10-21 22:53:14
2017-10-04 14:03:20
TRAINING FOR THE NEW ALPINISM