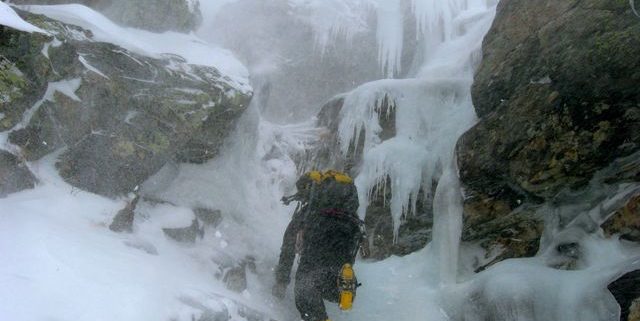 Real Winter Pattern Coming!
All indications point to Major Cold and very stormy weather over the next 15 days
Ted Hammond enjoying the start of this weather change.  Odell's Gully – Huntington Ravine, Mt. Washington NH  12/06/09
Photo by Alfonzo
All long term and short term indicators (NAO, EPO, EL Nino etc…) have been pointing to cold and stormy (For weeks). Well that is now coming to full realization for Dec to Jan. The last two storms were the beginning of the pattern change. We have one last one (Dec 7/8) to complete the transition and lock the NE into below to well below average temps and a very active storm track as well.
What Ice if any survives this weeks storm should rapidly start building by the end of this week into the weekend. (Even in the southern sections to some extent) Next week should only continue to reinforce the ice building.
Snow Cover:
Check out the massive and rapid snow cover buildup over the US in just over the last 6 days ( Today –  December 1).  This is why the cold push will be so much stronger over the next 10 days, as the fresh snowpack will help in keeping the arctic air from moderating.
Source: Smike – NEice Weather Outlook
Photos by Rockytop
Blind Fate and Blue Ice Buldge Smugglers Notch VT 12/07/09
https://www.neice.com/wp-content/uploads/2009/12/ted_odells-1.jpg
463
640
NEice Admin
https://www.neice.com/wp-content/uploads/2016/10/2012_NEice_logo_oval_blk6-300x103.png
NEice Admin
2009-12-08 07:41:21
2009-12-08 07:41:21
Huge Transition Underway