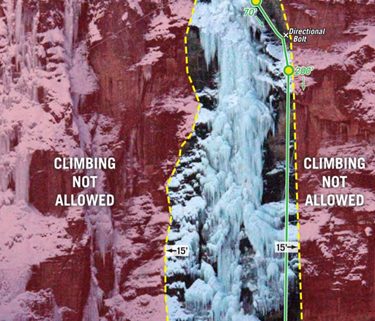 Bridal Veil Falls Re-Opened!
Telluride's Bridal Veil Falls Re-Opened to Climbing
Standing 365 feet over Telluride's Box Canyon, Bridal Veil Falls is Colorado's tallest free falling waterfall, and some would argue, one of the most classic and difficult ice climbs in the country. And it has been closed to climbing for the better part of a few decades, with the exception of a few brief openings.
Following extensive negotiations, ice climbers will once again be able to legally climb the classic Bridal Veil Falls, beginning December 5th of this year. This agreement was reached through negotiations between The Trust for Public Land and the Idarado Mining Company, with support and advocacy from Colorado's San Miguel County, the Telluride Mountain Club and the Access Fund. It awards a revocable public access license that grants climbers access to this world-class ice climb.
The opening of the key access point to Bridal Veil Falls was managed by The Trust for Public Land, a non-profit land conservation organization dedicated to helping communities all around the country save special places for everyone to enjoy. Their work has made a real difference around Telluride, Ouray and Silverton, where they have protected over 10,000 acres for the public, including other outstanding climbing resources such as Wilson Peak and the Ouray Ice Park.
A climber's general information meeting will be held on Wednesday, Dec. 17 at 5:30 p.m. in the county meeting room, Miramonte Building, 333 West Colorado Ave (2nd floor) Telluride, CO. All interested climbers are invited to attend.
The re-opening of Bridal Veil Falls is a big win for the climbing community, but we need your help to ensure its continued access. This area contains a set of innate hazards, which climbers must be aware of to ensure their own safety and mitigate potential access issues.
This new public access license is revocable and is contingent on climber's awareness and compliance with a number of rules. Climbers must sign in at a kiosk and avoid the Powerhouse area at the top of the falls; all descents must be via rappel. A complete list of rules and topo can be found at www.sanjuaniceclimbs.com.
Compliance with these rules is essential to maintain climbing privileges. Please treat this area and its adjacent private land with respect, and help educate others on its proper use. Our combined efforts can help keep this landmark climb open for years to come.
Many thanks to folks at The Trust for Public Land, Idarado Mining Company, San Miguel County, Telluride Mountain Club and many local climbers for coming together to reclaim this Colorado classic. For more information, contact Access Fund Regional Coordinator Steve Johnson at steve@8750law.com.
See also:
Trust for Public Land
Scott Dissel
(303) 837-1414
scott.dissel@tpl.org
Telluride Mountain Club
Tor Anderson
970-708-0860
telluridemountainclub@gmail.com
San Miguel County
Linda Luther-Broderick
(970) 369-5469
lindal@sanmiguelcounty.org
Colorado Avalanche Information Center
(970) 387-5712
www.avalanche.state.co.us
Source: Access Fund Press Release
https://www.neice.com/wp-content/uploads/2009/10/Bridal-Veil-Falls-Colorado-1.jpg
559
375
NEice Admin
https://www.neice.com/wp-content/uploads/2016/10/2012_NEice_logo_oval_blk6-300x103.png
NEice Admin
2008-01-21 21:33:11
2008-01-21 21:33:11
Bridal Veil Falls Re-Opened!