Lard Tunderin' Jaysus, Der's A Lotta Ice Up Der B'ys!
by Ryan Stefiuk
I buried my face inside my puffy coat as Andre's snowmobile lurched into motion. The rubber tread beneath us occasionally slipped on the thick black tiles of ice as we sped along the pond. To my right, Alden and Walt were cruising along, closer to the shoreline. The Cholesterol Wall, looming just above them, is bathed in the most wonderful, soft orange evening light. The sky is deep blue overhead, and the air is warm and windless. A few minutes later we're crossing the community woodlot and nearing the trailhead. The sun, the lone figure in a brilliant cloudless sky, is setting over the ocean to the west. No amount of illicit mind-altering substances could induce the trip I'm having right now.
" To put things in perspective for the average New England climber – take Lake Willoughby and triple it's height, and then cross it with Cannon Cliff, and you have Ten Mile Pond Cliff "
Alden Pellett and I have just climbed
Stratochief
, a 700′ WI 5+ on the Cholesterol Wall in Gros Morne National Park along the west coast of Newfoundland. We'd stared at this line during our first day of this trip. On our last day, with good weather, we abandoned our planned objective which we knew we'd climb without much trouble, and charged off into the unknown. This decision was the best one we made during our entire 10-day trip. 450′ of spectacular "spray ice" dripping from the imposing roofs overhead had painted an entire steep face with thin, yet climbable yellow ice. An exposed, rightward traverse across this face led upward, to the crux. From there, secure mixed climbing and WI5+ ice in a corner led to a ledge and the top. We both agreed, as we topped out, that this was one of the most mindbending routes either of us had ever climbed. Combine this with perfect weather, a partner you love to climb with and you have perhaps the best day of climbing you'll ever have – a day to remember for the rest of your life.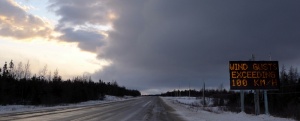 Newfoundland is a land of extremes. The drive from New England is long, boring, and almost always includes awful weather while traveling through Nova Scotia. Our 7-hour ferry crossing from Nova Scotia to Newfoundland has been delayed more times than it's been on schedule. The ferry routinely gets stuck at sea. The "puke fests" that ensue are legendary. One women told us it was so rough during one of her crossings that water was spilling out of every toilet on the boat as it rocked for 18 hours off the coast of Channel-Port aux Basques. They spent days bleaching that boat afterward. The warm ocean currents from the Gulf Stream and the Gulf of St. Lawrence make the weather fickle and windy. It can snow a foot or two in a day, but if it's windy there won't be any snow on the ground, anywhere. It can be -20 degrees for days straight, or it can be 45 degrees for your entire trip. If you're lucky, you'll climb 5 days on a 10-day trip. It's probably better to expect 2-4 days of climbing during that time and if the weather sucks you might not climb at all. Black Horse Lager will be a good friend.
The people are friendly, hospitable and inquisitive. Each oceanside town is small, with only a few hundred year-round residents. None of them are climbers, but many of them are familiar with the fjords and they're ringers when it comes to driving their Ski-Doos. Finding your way into the fjords can be as easy as saying "hello" at the general store or restaurant and asking if there's anyone who's willing to show you the way into the "ponds" (sounds more like "pand" – Newfoundlanders slaughter vowels like nobody's business).
There are several fjords or "inner ponds" – they're easy to spot on any topographic map and on Google Earth. I've spent hours, maybe days, pouring over maps of the west coast and there's a lot to look at. Unfortunately, access to nearly all of the fjords is extremely challenging during most winters. The inner ponds don't freeze regularly in all but one fjord. Fortunately, this pond has the most impressive array of climbs most ice climbers have ever seen. Ten Mile Pond is home to mega-classics like Fat of the Land (WI5+, 950′), Weather Vein (WI5, 1600′), Stratochief (WI5+, 700′), and He Speaks for Rain (WI6, 1000′). Each of these routes is insanely classic and ranks among North America's finest. To have nearly two dozen of these routes in one place speaks worlds of this venue's quality. To put things in perspective for the average New England climber – take Lake Willoughby and triple it's height, and then cross it with Cannon Cliff, and you have Ten Mile Pond Cliff. It is that good.
The crown jewel of Ten Mile Pond is the Cholesterol Wall. The C-Wall, as it's known by Joe Terravecchia and Casey Shaw, who've established most of the routes, is a 300 meters wide, yet houses a dozen classic lines ranging from 500-950′. This wall is backcountry ice cragging at it's finest. At 8-miles from the nearest road, it's no place to screw up, and there are no routes easier than WI5+ on this wall, but each route is pure bliss on a nice day. On a heavy weather day it feels like Alaska during a bad storm. During this trip, by the end of one day there was 4 feet of new snow on the ledges. Two cold and windy days later that snow was entirely gone; I don't know where it went but it wasn't there.
Seeing is believing, and I've seen enough to be convinced that Newfoundland may be North America's finest ice venue. So, if you don't mind a long, heinous drive in bad weather, an even more heinous ferry crossing, really cold windy weather or torrential rain and you can lead WI5 in 5 degree weather miles from roads, people and with no real potential of being rescued you will be rewarded with some of the world's finest ice climbing. Oh hell, even if you don't climb super hard there's a lifetime's worth of climbing there. The beauty of the place is that there's no guidebook – you'll just need to explore like every other climber who's visited the west coast has done.
Even though some areas in Gros Morne National Park have reasonable access there is no management plan regarding ice climbing there. It's a privilege to climb there and it should be considered an "alpine" climbing area, like any other mountain region. If you can't climb your route without bolts, leave it for future generations to climb. Leave the drill at home.
Ryan Stefiuk / NEice Ambassador
---
https://www.neice.com/wp-content/uploads/2013/02/NewfoundlandStoryCoverImage.jpg
600
800
NEice Contributor
https://www.neice.com/wp-content/uploads/2016/10/2012_NEice_logo_oval_blk6-300x103.png
NEice Contributor
2013-02-26 17:04:58
2019-01-03 23:58:48
Lard Tunderin' Jaysus, Der's A Lotta Ice Up Der B'ys!