Stratford Notch
by Ian Austin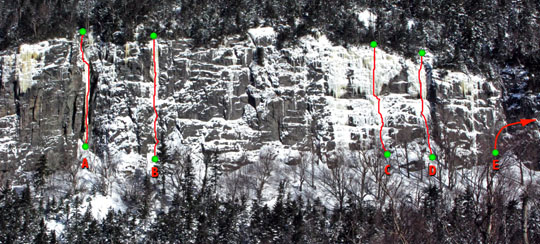 Located in northern New Hampshire, Stratford Notch is a south-facing crag that stands 40m tall and basks in the sun. It gets ice early and loses it by the middle of January. The ice forms consistently year to year.
Access is straightforward; you can hike in without skis, and a snowmobile trail leads up to the cliff slope. The thrash to the base takes 15 minutes.
There are at present 5 routes, ranging from NEI3 to NEI5, all 30-40m in length. All ascents were done with screws, and raps are from trees at the top of the cliff. The first route done at Stratford was The Oaf (NEI3 30m Jeff Cavicchi, Ian Austin) in 2004 at the far right end of the cliff. The second and third were Skinny Bitch (NEI5 40m Ian Austin, Josh Hurst) and My Other Woman (NEI4+ Josh Hurst, Ian Austin) in 2008 on the left side of the cliff, followed by Pimp Slap (NEI4+ 40m Ian Austin, Josh Hurst) and Hebrew National (NEI4+ 40m Josh Hurst, Ian Austin) in 2009.
All routes are straightforward and fun, unlike some of their distant cousins on Goback. Stratford Notch is private, quiet, beautiful, and peaceful. It goes without saying that if you make it there, your experience will be as well. Please keep this area as it is. The land does not fall within Nature Conservancy boundaries but pretend like it does.