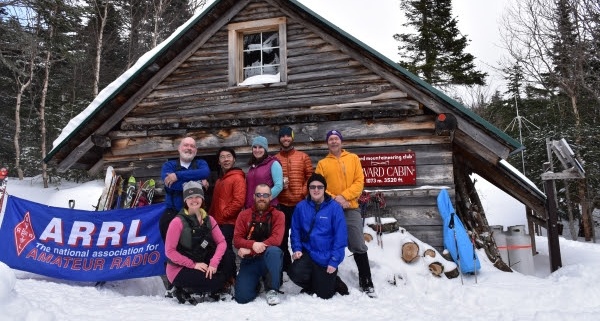 Harvard Cabin Report 1-21-16

January 21, 2016
Harvard Cabin Mountaineers,
Howdy, y'all! I trust everyone is enjoying the political climate developing in the lead-up to the 2016 US Presidential Election. After seven years of mildly entertaining (boring, maybe even depressing) politics in the good ol' US-of-A, we've returned once again to another unforeseen period of American political excellence! Could we have ever imagined another leading political figure as entertaining as the former "Decider-in-Chief"? More so, you say? Not in a lifetime would I have thunk it possible. Talk about a trump card! You can't make this stuff up!
Good news! If it is not the political climate you're yearning for, don't worry, New Hampshire is still the place for you. Finally, it seems winter has settled in for the season. Now that is one party we can all get behind! Many of you should know by now but in case it's not obvious, I really enjoy politicking so long as we are able to enjoy the free, open, and peaceful exchange of ideas. That said, this go-around I think it possible for anyone, anything, or any idea to gain a podium spot at the next Republican Presidential Debate and so I am encouraging you, my fellow North Americans -Citizens, Immigrants, Illegals, and other variously labeled Earthlings – Vote for Winter 2016, It's gonna be HUUUGE!
Snow and Ice Conditions
Huntington Ravine ICE is IN!
We'll folks, we are inching little by little towards full-on winter. Right now, we have a solid 15 inches (40 cm) of settled snow pack from Pinkham Notch all the way to the ravines. Thanks to what has been a relatively snowy and WINDY week, the Tuckerman Ravine Trail and Fire Road are both snow covered. After a busy MLK Jr weekend, trails are packed out and fast moving. Some light traction or skis and skins will make for a speedy approach to the cabin.
Temperatures over the last several days have ranged from -10 to +15 Degrees F (-23 to +10 Degree C) preserving snow and encouraging the continued growth of climable water ice. The explosive growth of frozen waterfall ice can be largely attributed to what is known as the Arctic Oscillation Index finally entering a negative phase. In simple terms, high pressure over-took the arctic zone, pushing very welcomed cold air into the middle latitudes. The opposite was true for all of December. Low pressure dominated the polar region, allowing for a strong and consistent east-west jet stream to dam-up arctic cold air.
Thanks to this change in AO, the dam was finally breached between January 10 & 11, 2016. The metaphor is appropriate given the 1.4 inches (3.5cm) of rain that fell on the summit of Mount Washington on January 10. The tropic-like monsoon brought thigh-deep water to some parts of the fire road and the Cutler River seemed to become a tributary of the Tuckerman Ravine Trail. The latest gully-washer of the season was followed immediately by the sudden rush of arctic air that brought the first substantial winter weather of the season. It's been cold ever since!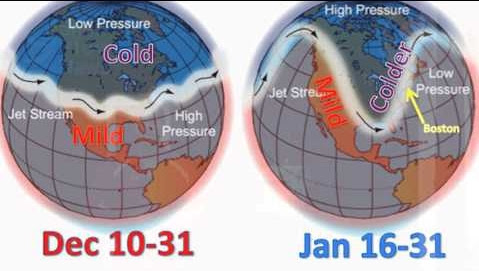 If you are interested, you can read more about Arctic Oscillation HERE. I'd also like to take the time to admit that I learned only this week of the existence of a National Snow & Ice Data Center. Where the hell have I been?
Travel in Huntington Ravine
While the veil of winter is a welcomed sight across the Presidential Range, it should come as no surprise that we are still dealing with quite a snow deficit here in the Northeast. Thankfully, last weeks' snowfall has made most travel on the mountain feel like it should given the time of year. Unfortunately, the lack of snow thus far has kept travel through the lower portions of Huntington Ravine very summer like. You can expect plenty of boulder-hopping, alder-cursing, and longer then usual approach times into your favorite gully. This weeks winds have been the major culprit. Velocities peaked on Tuesday night reaching 127 MPH (~205 KPH). With recent snowfall I would have expected improving travel conditions in lower portions of Huntington Ravine (The Fan), but as winds raged most of the snow was transported to treeline or below. The upside being, once you make it to your intended climb, the ice is what you would expect it to be for late January! So, come and get it, there is plenty for everyone!
Avalanche Conditions
5-Scale Avalanche Forecasting has begun for the 2015-16 Season.
Ladies and Gentlemen, Skiers, Climbers, and Mountaineers – WE HAVE AN AVALANCHE SEASON! On Monday, January 18th the first 5-Scale Avalanche Forecast was issued for Tuckerman Ravine. Snow safety concerns in Huntington Ravine remain within the context of a General Bulletin. However, with the implementation of 5-Scale forecasting Rangers will be in the drainage daily and will keep a steady eye on changing conditions in Huntington Ravine. Until then, be sure to continue reading daily updates posted by the snow rangers. This will help keep you up-to-date with the developing snowpack and key weather events that will result in unstable layers to be of concern in coming weeks.
Even with the disparity in snow conditions, human triggered avalanches have been reported in both ravines this week. An obviously "upside-down" snow-pack kept climbers on their toes in Huntington with a few close calls being reported. An avalanche accident occurred in Tuckerman Ravine on January 17th, 2016 when two mountain travelers triggered an avalanche in the area known as "The Chute". A total of 6 people from multiple parties were effected by the slope failure. Injuries were all non-life threatening, but one victim was transported from the ravine to Pinkham Notch where an ambulance was waiting. You can read more about this avalanche on the Incidents and Accidents portion of the MWAC Website.
Avalanche Advisories and MWAC Website – Know Before You Go!
You can receive the daily avalanche advisories through several social media outlets. Of course, I find it easy enough to browse over to the recently remodeled MWAC website at http://www.mountwashingtonavalanchecenter.org.
Once there, you can read the latest advisories, check out recent photos from the ravines, get in-depth insight into the snow-pack as snow rangers blog from "The Pit", and share in a wealth of news and resources relating to snow, weather, and safety on Mount Washington. Oh and don't forget Rangers are looking for your snow-pack observations from across the White Mountains this Winter. Observations can be submitted via the MWAC Website at this link.
Plenty of Winter Ahead…
This year, Martin Luther King weekend was back to normal in terms of mountain travelers. Last year, the same weekend was absurdly quite. It probably had a lot to do with super cold temps and plenty of winter weather south of the White Mountains. Fortunately, this year MLK weekend came just after the first real dose of winter here in New England. The right combination of precipitation (snow), temperatures, wind, and sun made perfect the recipe for playing in the mountains. The Harvard Cabin filled to capacity on Thursday night (as well as the tent-sites) and remained so throughout the weekend. It was a much needed change of pace and we are looking forward to continuing the trend this coming weekend. Plenty more sunshine in the forecast for the weekend without much in way of weather.
If you need a little extra motivation, it will be a good weekend for a true alpine start. Not only will you get a good view of mountains but, you'll also have a great shot to 5 of our planetary neighbors. If you haven't heard, for the next couple of weeks in the wee hours of the morning the planets Mercury, Mars, Venus, Saturn, and Jupiter will be on display in the eastern sky. The 2016 Planetary Conjunction should look great from Mt. Washington!
If you are in the mid-Atlantic states, I'd consider jumping in the car right now. If you don't waste anytime you'll miss the apocalypse and things will be all cleaned up by the time you return. In the mean-time, you would have enjoyed a few great days in the Alpine and helped carry-on the fine tradition that is The Harvard Cabin! We hope to see you!
Upcoming Events:
2nd Annual Backcountry VE Session @ The Harvard Cabin
HAM Radio Exam Session – Feb 20, 2016
Okay…well, many of you know that Marcia and I are shameless promoters of the hobby that is Amateur Radio (HAM Radio). Many of you also endure the endless harassment that goes with our promotion of the utility of radio, especially among all of you – our mountain friends! The White Mountain Amateur Radio Club will once again be hosting a Volunteer Exam Session at the Harvard Cabin this Winter. All License Class Level Exams will be offered this year. So, weather you are new to the hobby or an "old fist", if you spend time in the mountains, we'd sure love to have you stop by for our 2nd Annual Backcountry VE Session. Click here for photos of last years session!
If you are interested but, not sure where to start, fear not. You too can join the increasing number of backcountry travelers who have joined the ranks of radio operators. There have been many who caved to the Marcia's persuasive wit and so far haven't any regrets except for not having done it sooner! The utility of radio is not only fun, it is also a great way to increase safety for yourself and your group. But, don't take my word for it. Read this short White Paper presented as part of the International Snow Science Workshop 2012 titled TALKING THE TALK:Human Factors, Group Communication, and the Next Frontier in Snow Safety.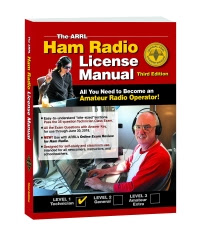 The Ham Radio License Manual, published by the American Radio Relay League, is all you'll need to pass your test. The book may be available at your local bookstore or library. Check there first or order from Amazon by clicking here.
Study time is about an hour a day for a week. Then you take a 35-question, multiple choice test. Get 26 correct and you'll be issued your own callsign and have instant access to the Harvard Cabin from anywhere in the world…I kid you not! Pricing for high-powered, light-weight, handheld transceivers begins ~$30 US. Click here to browse!
Smugg's Ice Bash – January 22-24, 2016
Mount Washington Valley Ice Festival – February 2-7, 2016
Adirondack Backcountry Ski Fest – March 5-6, 2016
Rich Palatino
Harvard Cabin Caretaker
Rich and Marcia
Cabin Caretakers 2015/16
NOTE – Harvard Cabin is not affiliated with the Appalachian Mountain Club. Harvard Cabin is maintained by Harvard Mountaineering Club for use by the general public. The cabin is operated under a special-use permit granted by the USDA Forest Service. Cabin space and tent-sites are available on a first-come, first-serve basis between December 1st and March 31st each year. Specific instructions for staying at the cabin can be found online at http://www.HarvardMountaineering.org/cabin
Our mailing address is:
Harvard Mountaineering Club
Student Organizations Center at Hilles
59 Shepard St #73
Cambridge, MA 02138
https://www.neice.com/wp-content/uploads/2016/01/Event.jpg
400
600
NEice Admin
https://www.neice.com/wp-content/uploads/2016/10/2012_NEice_logo_oval_blk6-300x103.png
NEice Admin
2016-01-22 15:03:13
2016-01-22 15:03:13
Harvard Cabin Report 1-21-16