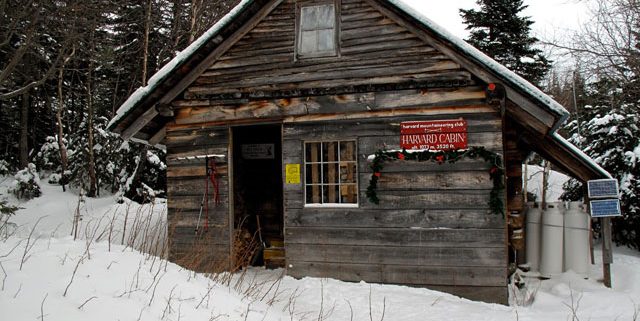 Harvard Cabin Open for the Season – 2015/16
A sure sign that the winter season has started! 

Greetings Harvard Cabin Mountaineers,
Bet you were wondering when you'd see another cabin update. I know because I found a few inquires in a dusty corner of my inbox…sorry I didn't get to them sooner.
I'm sure you've been making plans to get up to the Harvard Cabin this season. You're in luck, the Harvard Cabin opens for the season today. The 2015/16 ice season is off to a fine start with consistently cold temperatures and a fair bit of early season snow. I'll have a better feel for conditions as the week goes on but, I hope you'll come up and see for yourself…..we'll be here until April!Come join us for our best season yet!
FYI, if there are any early birds heading up the hill, be advised we will be cutting-off the pad-lock at the cabin around mid-day. If you are out and about on the mountain and planning to spend the night at Harvard, feel free to stash your gear in the vicinity of the cabin. Rest assured, the cabin will be open and warm when you return.
Staying at the Harvard Cabin
As a reminder, staying at the Harvard Cabin is on a first-come, first serve basis. The rate is still $15 per person, per night. (US Cash only). Check for space available at the Pinkham Notch Visitor Center before heading up the trail. You can find the Harvard Cabin Register at the Trading Post Front Desk or downstairs in the pack-up room after-hours. All guests need to arrive prepared – sleeping gear, toiletries, food, and other equipment as needed. The cabin is equipped with full-kitchen amenities, so bring fresh food and leave the stove and cook kit in the car. If you will be camping at the Harvard Tent-Site, we are happy to help you any way we can, but campers need to be fully-prepared for a winter bivy – tent/shelter, cook stove with fuel, adequate warm weather gear. The water source is the Cutler River, located behind the cabin. No need to melt snow. Due to it's size of the facility, cabin amenities are to be used strictly by those guests who have signed-up to stay inside the cabin.
The best approach to the cabin from Pinkham Notch is to travel about 1 3/4 miles up the Tuckerman Ravine Trail to the Huntington Ravine Fire Road. If you are not certain of the way, be sure to ask a trail information specialist at Pinkham Notch.
You can find out more about the staying at the cabin at http://www.harvardmountaineering.org/cabin/
Rich, Marcia, and Sprinter Update
It's been a hectic few weeks since Marcia and I returned to New England following a summer of skiing and climbing the the western US. Fortunately, we made it back just in time for the annual Harvard Cabin work weekend on Nov 14/15th. At that time, we delivered eviction notices to the summer "residents" and began hauling gear and supplies up to the Harvard Cabin.
As is always the case, it was wonderful to be back at the cabin. A couple of weeks before our return trip up the Tuckerman Ravine Trail, Marcia and I enjoyed a wonderful ascent of Mt. Whitney via the East Buttress. A week out, we were still enjoying Southern California and the shores of Malibu where I snapped this photo. Heading across northern Arizona and New Mexico we encountered a pretty sweet snowstorm. We would of broke out the boots and boards had we not made plans with family in the midwest. Soon after, we arrived back in the northeast. I've said it time and time again -There is no place like New England. We are so glad to be back at the Harvard Cabin for another season. Thank You to the Harvard Mountaineering Club for having us back for a 7th season!
Many of you may have heard of the stress we had been dealing last week. In the end, it turned out to be nothing more then a bizarre event. In trying to process what happened, knowing that we came really close to loosing everything we've worked so hard to obtain – a lifestyle more then anything -we were left looking for some higher meaning. We come up with a few far-out ideas, but simply stated we were in the wrong place at the wrong time.
Thankfully, everything turned out okay. The Sprinter was recovered and all of our belongings were safe and sound. A crazy, stress-filled 18 hours. Thanks to everyone who reached out and offered support. Given the lengthy theft reports and insurance paper work we were dealing with at the police department, we hadn't realized the extent of the response from the climbing community until after the van had been recovered. We were truly humbled. Thanks to everyone for your support and encouragement throughout. I'd like to thank my sister ,Tina, for being so pro-active after being awoken at midnight with the news. She really helped spread the word. If you have no idea what I am referring to, you can read about it here. But, please don't mention it 😉
With that said, thanks for reading. We are hoping for a record breaking season in terms of overnight users. Thanks for making the Harvard Cabin what it has come to be. It's constructed of wooden logs, but it is held upright by an amazing climbing community here in the Northeast! Let's have another safe season on Mt. Washington. Come, enjoy a pinnacle backcountry experience at The Harvard Cabin!
Rich Palatino
Harvard Cabin Caretaker
NOTE: Harvard Cabin is not affiliated with the Appalachian Mountain Club. Harvard Cabin is maintained by Harvard Mountaineering Club for use by the general public. The cabin is operated under a special-use permit granted by the USDA Forest Service. Cabin space and tent-sites are available on a first-come, first-serve basis between December 1st and March 31st each year. Specific instructions for staying at the cabin can be found online at http://www.HarvardMountaineering.org
https://www.neice.com/wp-content/uploads/2012/10/Harvard-Cabin-1.jpg
480
640
NEice Admin
https://www.neice.com/wp-content/uploads/2016/10/2012_NEice_logo_oval_blk6-300x103.png
NEice Admin
2015-12-01 14:50:12
2015-12-01 14:50:12
Harvard Cabin Open for the Season – 2015/16