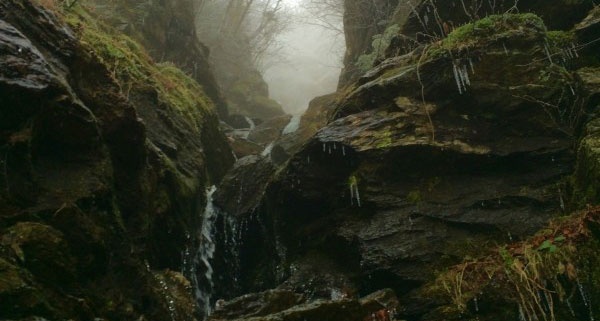 December UPdate – What the f&@k?
New Hampshire
The beginning of this ice season has been anything but consistent. We've had thigh deep snow topping out of Huntington Ravine in October followed up by spring-like temperatures on the high summits for weeks with only splashes of short cold spells here and there. Usually I can get a sense of what the ice conditions will be like, but this year I've been off my game. Two weekends ago, I stopped thinking about ice and went for a three day backpack in the Wild River Wilderness. Just this past weekend, I thought there wouldn't be much to climb out there, so I donned my summer trail running shoes and headed up and around the side of Mt. Jefferson with some friends.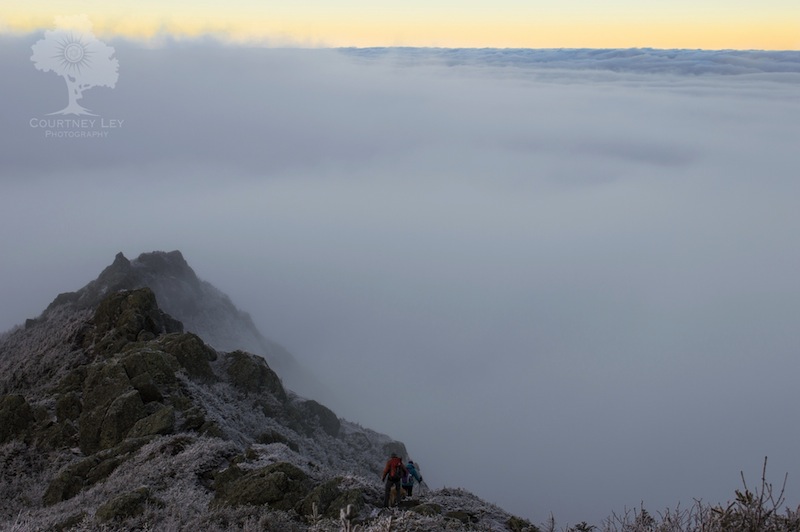 I found out that evening, when my phone buzzed with picture messages, that I was dead wrong.  While I was in and over the clouds that day, there was a duo climbing what was likely the longest and fattest ice line in northeast as of that moment.  That was Hillman's Highway in Tuckerman Ravine, and yes, there was a lot of ice.  At least the beautiful undercast was worth missing out on the climbing action.
Others tackled Tuckerman Headwall on the day, the day before and the one after.  Despite it getting sun baked, the ice seemed to hang in there just enough.  Huntington Ravine also saw some action, with Odells Gully, not surprisingly, seeing the most traffic.  Check out the condition reports for information on those climbs.
Elsewhere in New Hampshire, Alden Pellett explored the Big Slide area up Mt. Lafayette on last Sunday to find a thin runnel of ice from bottom to top.
Vermont
Up in Lake Willoughby, things are admittedly looking a little sad. This picture of the Center Tablets about sums it up.
Smuggler's Notch has been like a bad relationship: on, off, on and then off again.  Like some mystical land, the routes appear and disappear in mere hours and at random times.
Reports from last Saturday in the notch confirmed there was a lot of moving water and some verglass on the rocks in the gullies but the ground wasn't frozen yet.  Jeff's Slide appeared as a thin apparition and then disappeared again this week with the warm temperatures.  But there's hope!  The road officially closed and I'm sure climbers will be heading in this coming weekend to see what's there.
New York
News has been quiet in the Adirondacks, but I'm sure that doesn't mean the locals haven't been climbing.  The last bird I saw told me Chouinard's Gully was climbed in super thin conditions, but that was days ago and the way this season has been going, that fact becomes totally irrelevant.
---
So what now?  What's going to happen this weekend?  What the f&@k is going on with this weather?  It's anyone's guess, but the forecast calls for a high of 40 degrees on the summit of Mt. Washington Saturday.  Go figure that it's snowing and cold up there as I write this article.
What's been going on in your neck of the woods?  Find some good ice?  Let me know at courtney@neice.com!  Till then, good luck out there!
I'll leave you with these videos, as they sum it up best.  Some great footage of the changes in Tuckerman Ravine, courtesy of NEice Community member, Matt Bowman!  Thanks for sharing these.


Special thanks to Nick Yardley, Alden Pellett, Tim Farr and Matt Bowman.
https://www.neice.com/wp-content/uploads/2015/12/WTF-Smuggs.jpg
481
600
NEice Admin
https://www.neice.com/wp-content/uploads/2016/10/2012_NEice_logo_oval_blk6-300x103.png
NEice Admin
2015-12-04 13:50:51
2015-12-04 13:50:51
December UPdate – What the f&@k?