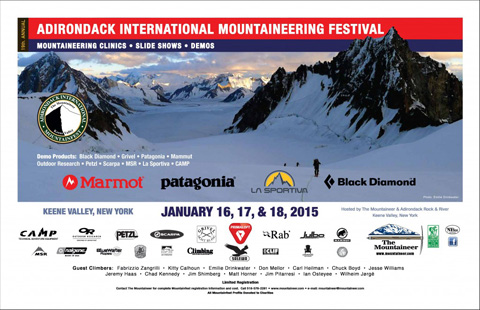 The 19th annual Adirondack International Mountainfest
January 16, 17 and 18, 2015.
Mountainfest is an annual celebration of ice climbing and mountaineering, featuring guest athletes who entertain us with tales of climbing adventures, instructional clinics taught by visiting climbers and local guides, demo gear, and a chance to gather with the climbing community for an exciting winter weekend.
Mountainfest 2015 boasts an excellent lineup of speakers, including Marmot and CAMP/Cassin athlete Fabrizio Zangrilli and Patagonia Alpine Climbing Ambassador Kitty Calhoun. Their slide shows on Saturday and Sunday evenings promise to be entertaining and also offer a chance to win raffle gear and free giveaways.
We're offering more clinics than ever this year, including tons of ice climbing courses, snow and alpine climbing, snowshoe mountaineering, avalanche safety, and wilderness first aid. Many of the event sponsors will be here with the latest gear for you to take and climb with on both Saturday and Sunday.
Whether you come for the clinics or just climb on your own and check out the evening entertainment, Mountainfest is the place to be this Martin Luther King weekend.
More information on the event can be found here….
---
A message from Don Mellor
Greetings to ice climbers near and far:
Mountainfest is coming to Adirondacks for the 19th consecutive season. Most folks are really psyched – about the clinics, the demos, the presentations, the camaraderie, and the opportunity to meet some of the world's best.
But we are also VERY aware that our presence can put a serious snag in your own climbing plans. We don't own the local ice. We often wonder if it's even right to get up early and drape a crag with ropes. But what we hear over and over from you is that Mountainfest is a good thing, and as for the crowds – well, most of you are happy to adjust. Thanks!
Our plan, so that you can plan:
Mellor's Steep and Chicken-hearted course will be at the Pitchoff Quarry.
Visitor Fabrizio will do his advanced thing in Chapel Pond Canyon.
James and Andrea will be at Rock and River's private property ice park.
Ian O. usually scouts out some ridiculously thin things around Chapel Pond, probably starting at Laceration.
Horner and McCormick are waiting to see how things set up.
Whether or not you are in a clinic, there'll be a friendly welcome to hang out, listen, maybe even share a rope. The ice ain't ours (except for the ice park!), that's for sure, and we'll do our best to make it a happy, jazzed weekend. See ya.
Things could change – we'll keep you posted. Check in at the Mountaineer for the latest.
---
https://www.neice.com/wp-content/uploads/2015/01/Mountainfest2015-web-poster1.jpg
310
480
NEice Admin
https://www.neice.com/wp-content/uploads/2017/10/2012_NEice_logo_oval_blk6-1024x350-300x103.png
NEice Admin
2015-01-14 10:05:12
2017-11-16 22:41:10
Adirondack International Mountainfest 2015