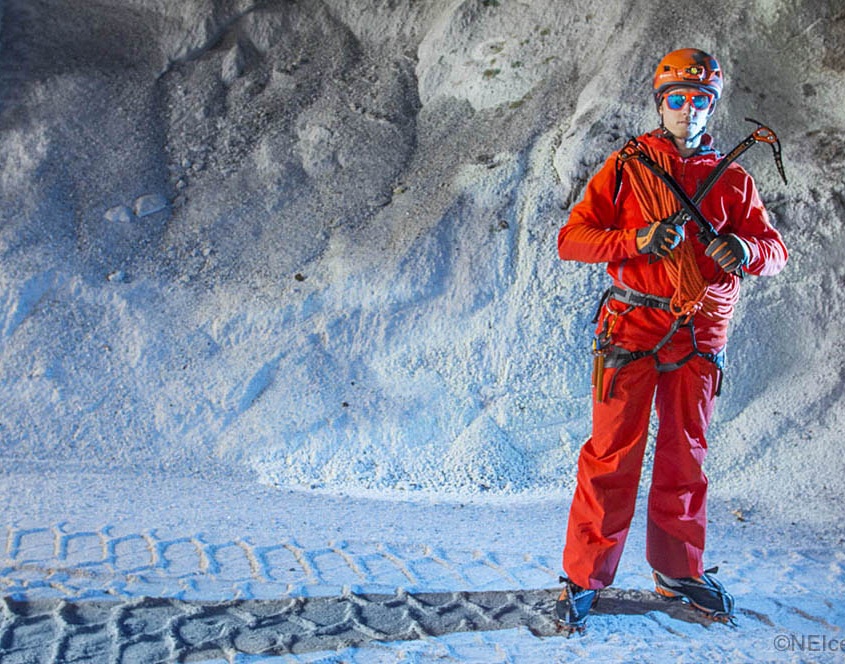 NEice Gear Review for 2014/2015
The cool gusts of Autumn are blowing in, scattering a kaleidoscope of leaves. The first snow flurries of a new season sift down through the mountain air. Rock climbing seems a mere distraction now as the cold seeps into numb fingertips trickling down to chilled toes, hinting at what will soon arrive – the ice is coming. Eagerly, we await that first good thunk of our favorite ice tool sinking into soft early season ice. The thought of it, harkens up a familiar sensation of security and the satisfaction that comes from knowing you couldn't fall from the steep blue ice at that moment.
"We await that first good thunk of our favorite ice tool sinking into soft early season ice."
As memories like these bring on the promise of new adventure, we pull dusty gear out of the dark closet depths and sort and re-sort it all. Tool picks are sharpened. Ice screws inspected in a pre-season ritual.
Our minds wander back over the years of ice climbing, maybe to our earliest terror-filled winters bashing a line up a route too hard for us, almost certain that death lay just a little higher. So, illogically, we just swung harder and gripped tighter.
Over 20 years ago, on one of my first stout leads at Lake Willoughby in northern Vermont, I nearly lost an arm placing a screw. Untested ambition had put me there, high on the grade 5 crux, my stomach flipping with a lurch from the fear and overexertion. I tightened the twist leash on my left hand one more turn, cutting off more vital circulation, and using a tool pick in my right, turn the tube threads further into the ice. The fearful sound of that screw screeched in my ears as it resisted the effort. Burning up too much energy, I quit before it was even close to safe. I clipped the hanger and sucked in a frigid measured breath of partial relief and leaned my forehead against the ice, still too proud and scared to take on the rope. There I was, filled with aching terror when fresh powder lay on the easy slopes in the next town over, just a cozy lift ride away. But, I kept going back for more of that fear. Exactly why, I can't tell you. But, with experience, it improves. With time, the joy overtakes the fear. Things change. Life changes.
Along with us, the gear changes too. It was nearly 20 years ago, Grivel purposefully bent the shaft of their latest ice tools – giving us the Machine and essentially taking one whole grade of difficulty off the routes. A few years later, Beal gave us lighter, skinnier ropes – their Ice Lines. Our clothes got lighter, warmer, better. Ice screws actually went in like rock gear – fast. Leashes got quicker, then disappeared with Petzl's Ergo tool, and have sort of come back again as tethers. This sport is now much easier and safer. Even without our training harder, technology has made us faster. Yes, death is still waiting, only a fool would deny it, but now I can smile at yesterday's memories and fear no longer fills me while I'm walking up to that same steep route at Willoughby.
"Even without our training harder, technology has made us faster."
As this season arrives, and you finish another set of pull-ups… maybe you're dragging a file across the worn pick of your old ice tool, and perhaps you can't help but wonder – will a new change in gear eclipse all that hard training? Only you will know really…all your training and preparation could take a back seat to that new piece of equipment that just clicks with your climbing style. Now you flow with it, as you start up a steep column, swinging smoothly. The tool thunking firmly in soft ice, again and again, and suddenly you're at the top of that serious line you always dreamt of leading and you smile clipping into the anchor. The game has just changed for you…and life is even better.
THE GEAR
There's nothing worse than bad gear – It's too heavy, it doesn't fit, it doesn't do what you want it to, or worse yet, it breaks and leaves you stranded. There's a lot of really good gear out there nowadays so it's tough to pick out the best of the best. Starting out on our first real gear review, we decided to mostly look at what's new or nearly new this season. We gave up some precious climbing time to delve into the real meat and potatoes items of the sport, checking out the latest in tools, crampons, ice screws, jackets, harnesses and gloves. The more we looked, the more we realized, a lot of it is orange (or most of it is available in caution-type colors anyway) Thus our headline, a play on the TV series, Orange is the New Black. So, go forth with the colors of caution, maybe whether you like it or not.
TOOLS
CAMP X-Light (new) – $199.99 A superlight and versatile tool for the technical alpinist, with a hot-forged aluminum alloy head that allows for multiple set-ups. The removable X-Alp grip has a soft hand for good grip and can be swapped out with the X-Dry grip.
Petzl Summit EVO – Due out January 2015. This tool should find a similar niche to the CAMP X-Light.
Black Diamond Fuel Ice Tool (new) – $259.99 A high-performance, all-around cragging tool that's at home on steep ice and overhanging rock. BD says the Fuel is the quiver of one for the modern winter climber.
Grivel Tech Machine (new) – $249.95 A nice technical tool for mixed and big steep ice. The new round clip hole in the head makes it easy to clip on and off your harness. The Tech Machine comes with their Ice Blade (3mm tip) but it also takes an optional mixed pick for more extreme drytooling.
TECHNICAL CRAMPONS
There are some great standby 'poons' that hardmen and hardwomen of the Northeast have been crushing with over the past few years (Grivel C4, Petzl Lynx & Dart, BD's Stinger) so not too much has changed recently or dramatically other than CAMP's new setup.
CAMP Blade Runner – $349.95 Not really new to start this season but when these crampons came out late last season, they were making quite a splash during the ice festivals in the Northeast. CAMP athlete Ian Osteyee put up a new severe test-piece at Poke-O Moonshine with them last winter. Yup, they're pricey, but hey, so is a good single-malt.
ICE SCREWS
Petzl Laser Speed Light – $74.95 If light is right, these just might be the screws for you. The speed light is an ultra-light screw with aluminum tube, an ideal weight-cutting tool for mountaineering. These screws seem to start as easy as the BD Express screws that are very popular. The folding crank works well and folds away reasonably quickly, perhaps not as easy as one might prefer. Hey, we're spoiled compared to 20 years ago. Durability over the long-haul of hard climbing use through multiple seasons remains to be seen. They're pricier than regular weight screws but several long-time NEIcers admit they're going to add at least a handful of these to their racks.
JACKETS
New materials continue to improve the outerwear available for ice climbers on the move. A number of companies have come out with softshell tops that work great for keeping the sweat from building up too much and keep you cruising with one of the new wool-blend layers underneath and a belay jacket over them in harsher conditions.
Black Diamond Dawn Patrol Shell – $349.00 A minimalistic softshell jacket, the Dawn Patrol LT Shell uses Schoeller® stretch-woven softshell fabric to handle the demands of fast-and-light alpine climbs.
Mammut Nordpfeiler (men's and women's) – $350 This has a new WINDSTOPPER® fabric. more breathable and stretchier with pit zips for added cooling. This is a prime GORE® WINDSTOPPER® jacket for high alpine use, offering high abrasion resistance and good stretch, ideal for colder conditions and as a second layer. This is not an insulative jacket so you'll want to choose the right layer to go underneath depending on conditions.
Mammut Morangun Jacket (new features)- $425 Mammut has given this a more durable surface fabric than before with the combination of a 2-layer GORE-TEX® face fabric and the proven OTI™ Element synthetic fiber filling. It is waterproof and excellent in cold temperatures.
Outdoor Research Clairvoyant (women's model) – $324.95 Streamlined, durable and functional, the Clairvoyant is built for high-alpine climbing epics and aerobic backcountry tours. And unlike many waterproof shells, the polyester face fabric is soft, supple and quiet, yet easily repels unpleasant weather during all-out adventures.
Mountain Hardware Quasar Jacket – $400 A waterproof 3-layer shell is designed to be as compact and efficient as it is hardworking. Dry.Q™ Elite technology starts expelling excess heat and vapor right away for nearly instant breathability. A sleeker fit than most jackets.
GLOVES
For some of us, this is the business end of modern ice climbing. If your hands are frozen or you can't feel the tool, you're already half-finished. Most experienced climbers bring two or three pairs in their craggin' packs. These are a few of what's new on the scene.
Black Diamond Torque Glove – $59.95 A performance softshell glove with a tricot lining. BD says this model was built for high-end mixed climbing and drytooling, featuring a super-sticky palm and low-profile construction for unmatched grip and dexterity.
Black Diamond Punisher (women's version) – $99.95 The company's classic ice climbing glove but with a different fit for women. Maintains the pre-curved construction with articulated fingers with a waterproof breathable BDry™ insert and EVA padded knuckles so you can still wrap your hand around a cold beer at the end of the day.
CAMP GeKO Light – $99.95 A nice leather-palmed technical glove for mixed climbing and warmer days on the ice. The model forgoes insulation in the palm for better grip but offers a thin 4 oz Primaloft® insulation on the main body combined with box construction using durable and water resistant polyester fabrics for a precise and snug fit.
CAMP GeKO Hot Dry – $109.95 This medium-weight glove is a new upgraded version of their best selling G Hot featuring a Hipora® waterproof/breathable membrane for extra protection in wet conditions. The palm and fingers feature their Grip'R technology to help with holding power and durability.
HARNESSES
CAMP Air CR – $84.95 If you're looking to slim down, CAMP says it used the same lightweight design on the AIR CR model as the Air harness but added adjustable leg loops. Constructed from 2mm perforated EVA foam attached using edge-load construction to soft polyester mesh on the interior and durable nylon mesh on the exterior. The Air CR seems a good bet for any kind of fast and light climbing endeavors including advanced alpinism and ice climbing with two slots to accommodate clippers or carabiners for racking your tools.
Petzl Hirundos – Due out January 2015. A lightweight high-end model, which the company says is ideal for sport and alpine climbing. Also features two slots for the Petzl Caritool holders for racking your ice tools.
REVIEW
First Impressions – Camp Air CR Harness: October 13, 2014. AMGA member and guide Tim Farr – "The Camp Air CR Harness is light, real light. Previous experience with past harnesses in this category had me expecting an uncomfortable and hip-bruising fit for anything but an un-weighted stance. But the Camp Air CR Harness is comfy. Proving that an ultra-light harness doesn't need to sacrifice comfort for weight. On long rock routes with hanging belays and lots of rappelling, I haven't even thought twice about the fit except for in amazement for the surprising level of comfort. While this harness obviously doesn't have the comforts of a marketed big wall harness, I still found myself grabbing for the Camp Air CR over my beefier all-a-rounder for just about everything. The three auto locking buckles, comfortable leg-loops and four good-sized gear loops on the Camp Air CR offer plenty of climb-ability and durability for everyone from the crag dweller to the weight conscious alpinist. Its light, packs small, has enough room for a large traditional rack and doesn't restrict your freedom of movement. From long rock routes on Cannon Cliff to cragging 5 minutes from the car, the Camp Air CR delivers. While the ice and mixed season hasn't quit started here in the Northeast, I'm expecting the Camp Air CR harness to shine simply based on my experience testing it this summer."
BOOTS
So many good boots out there to choose from! We should all feel lucky. But, sometimes there's always room for improvement. We felt adding a custom liner, like Superfeet, could help improve the performance fit of all these boots. Hey, they're your feet, do what feels good!
LaSportiva Nepal Cube GTX – $575 LaSportiva says it's a technical, warm, lightweight mountaineering boot with state of the art technology for mixed climbing terrain. If you're a fan of their Nepal Tops, these are lighter but with a more flexible ankle. meaning less support but more mobility for technical climbing. It also comes with removable additional tongue padding for an adjustable fit under the upper lacing.
Mammut Nordwand High GTX – $595 Mammut says this double-insulated carbon insole full-gaiter boot is the lightest in it's category. A double GORE-TEX construction in the inner shoe and on the gaiter provides plenty of protection for moisture regulation and water resistance. We found the built-in gaiter has more room to go over pants than the Scarpa Phantom Guide, if that's how you roll.
Scarpa Phantom Guide – $599.00 Scarpa says it's got the same materials and construction as their Himalayan boot, the Phantom 8000, for more warmth for extreme environments, but with the added sensitivity of a slimmed-down full-gaiter boot. One of our testers said this had a bit more room toward the front for wider feet.
Trango Extreme EVO Light GTX – $420 All synthetic, waterproof and insulated. The silver lining, so to speak, of this boot is a lightweight, warm technical mountain boot for ice climbing, plus the performance for mixed climbing and cold weather alpine goals.
ROPES
Stay tuned for a gear review on ropes. Get the skinny on the phattest alpine cords – Coming soon!
BITS & PIECES (Some new and some favorites)
Black Diamond Peter Beanie (new) – $25 No, it's not for your Johnson but we can't help but snicker at the name a little. This double-layer beanie is for super-cold days. and 'Yes', it's available in orange.
Mammut Nano 8 (new) – $14 Not for your everyday ice climbing outing but a very lightweight (and orange) rappel device that pairs well with their new 60M 6mm static rap line for going light on that solo climb and descent or for getting down past that gnarly section while ski mountaineering.
CAMP X-Dream Ice Tool– $279.99
Petzl Nomic Ice Tool – $299.99
Black Diamond Arc glove – $69.99 This is one sticky palmed light-to-mid-weight glove that performs great. Like a lot of grippy gloves, don't rappel down with them, you'll wear them out too fast.
Mammut Guide Work Glove – $109.99 A warmer leather glove for use when that light grippy glove doesn't cut it but the big bulky ones are too much. The company says it's ideally suited for mountain guides, patrollers, lift staff and everyone who works regularly outdoors.
Julbo Cortina sunglasses– $70.00 If you're looking for a rad pair of orange retro 80's-style sunglasses like on our model – they have Matte Orange.
---
https://www.neice.com/wp-content/uploads/2014/11/NEIce_gearreview_wide_title655x440.jpg
664
988
Alden
https://www.neice.com/wp-content/uploads/2016/10/2012_NEice_logo_oval_blk6-300x103.png
Alden
2014-11-06 09:34:21
2017-11-29 18:05:22
Orange is the New Rack