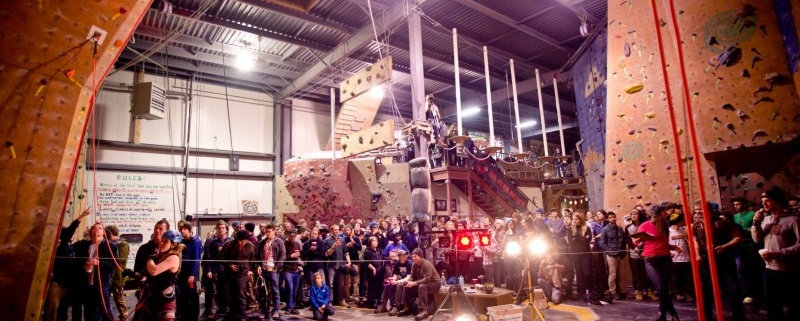 Smuggs Ice Bash 2014 – Recap
Smugglers Notch Ice Bash kicked off with an awesome evening at Petra Cliffs!  There was an great line up of competitors ready to crush the route set by Matt McCormick and Peter Kamitses. There's no where else in the Northeast you can go to see this kind of show!
The Dry Tool Competition Winners
Photos: 1.The competitors  2.Alexa Siegel 3.Will Mayo 4.Andrea Charest
---
Video Recap of the Competition
[iframe src="http://player.vimeo.com/video/85286529″ frameborder="0″ width="640″ height="360″]
There for the festivities was the American Alpine Club, Furnace Industries, US Sherpa, Outdoor Gear Exchange and Health Warrior. Before and after the comp, Dry Ice Tools and tools from Black Diamond and Cassin were available for demos on the climbing wall.  To top it off, raffle prizes were given away, sponsored by Crag-VT!
NEice was proud to sponsor a women's beginner clinic on Saturday led by Andrea Charest.  The clinic was free to all participants and judging by this photo, it looks like everyone had a blast!  And of course, hot soup was waiting for everyone who came down from the notch after a day of climbing.  There were great clinics offered all weekend from Steep Ice and Mix climbing to Alpine Climbing to Double Rope Techniques by guides including Tim Farr, Steve Charest, Mike Bauman, Matt Bressler, Mark Puleio and Michael Wejchert.  Guest guides this year were Whit Magro and Lindsay Fixmer!  Demo gear from all the major manufacturers were there and Smuggler's Notch Inn was packed with people checking out the gear.  By the end of the morning on Saturday, -all- the ice tools on -every- table were headed out for the day.
Once the demo gear was out, the reps and guides were psyched to get out and climb.  Kevin Mahoney and Michael Wejchert spent their Saturday on Dominatrix (WI4+/5 M6), put up by local hardmen Alden Pellett and Dave Furman in 1998.  It was one of the hardest mix routes during the late 90's and sent with straight shafted tools at the time.  Hats off.  Lindsay got her first taste of Vermont ice with Steve Charest as her tour guide while Matt McCormick and I decided to head to the Blue Room. When we reached the top of the notch, we were greeted by strong wind gusts and snow.  It was definitely a full-on day!  It was great to see everyone out, climbing or snowshoeing and skiing the road and embracing the Vermont winter.
Saturday night, Lindsay Fixmer showcased a little of her singer/songwriter talent and entertained the crowd with a song about women in climbing and the guiding world accompanied by photographs.  It's not often the guest presenter brings a guitar!  That was followed up by Whit Magro.  He presented a slide show about climbing at home, traveling to bigger places, then heading back home to climb after those experiences.. and then doing it all over again.  More great raffle prizes were handed out and Smuggs Bash teeshirts thrown into the crowd.  We all love free swag!
On Sunday, the temperatures plummeted, but mere -7 degrees wouldn't stop this festival.  I headed up the notch with Lindsay for a women's clinic along with Jess Jablonski.  Despite the cold temperatures, these women spent the day laughing, climbing and learning.  It was a great group of gals and I feel lucky to have had the opportunity to teach and climb with them. This year was big!  And it will only get better and better with Andrea and Stephen Charest running the show!  With that said, NEice extends the biggest of thanks to Andrea and Steve for all they do, not just for the Vermont climbers but the entire northeast climbing community and making the Annual Smugglers Notch Ice Bash a huge success.  We love being apart of it!
More photos of the event on the Smuggs Ice Bash facebook page.  LIKE them to make sure you are ready for next year!
– Courtney Ley / NEice.com
Featured story cover photo by Sam Simon Imaging. Competition photos by Doug Millen. Other photos by Courtney Ley and as noted.
https://www.neice.com/wp-content/uploads/2014/01/samsimon-e1390952083802.jpg
534
800
NEice Admin
https://www.neice.com/wp-content/uploads/2016/10/2012_NEice_logo_oval_blk6-300x103.png
NEice Admin
2014-01-29 10:09:37
2014-01-29 10:09:37
Smuggs Ice Bash 2014 – Recap