World Class Climbing Arena Coming to Bozeman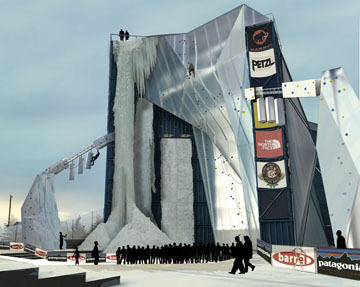 By Doug Millen, NEice.com
A team of Montana State University students has won a local competition to design an 85-foot ice climbing tower as part of an attempt to lure the world cup of ice climbing to Bozeman. The design of the project was initiated by a student competition during the winter of 2011. Winners were selected in March 2011.
Led by Michael Spencer of Willow Creek, a recent graduate of the MSU School of Architecture, with Tymer Tilton of Missoula a current architecture student, and MSU engineering student P.J. Kolnik of Helena, won the MSU-based competition to design the Bozeman Ice Tower.
Ice climbing is now a global sport. Competitions are popular enough that at the 2014 Sochi Winter Olympics, ice climbing will be a demonstration sport. The climbing tower that organizers hope will be built will give Bozeman the ability to host the 2013 Ice Climbing World Cup and provide an approved training and qualifying facility for American ice climbers looking to compete in the 2014 Sochi Olympics.
Joe Josephson and Conrad Anker hope that the climbing tower will serve as a venue for area climbing enthusiasts as well as a community events center. The world class climbing facility could be used as an outdoor concert venue that would accommodate 2,000-3,000 people.
The contest's organizers are now working with the Bozeman City Commission and the fairgrounds board on a site and are raising money for the project, which is expected to cost 1-3 million dollars.
More at http://bozemanicetower.wordpress.com/
Bozeman Ice Festival
Each December climbers from around the world meet at the annual Bozeman Ice Festival. The cold temps and dependable conditions allow Bozeman to hold the first of the seasonal ice festivals. This year is the 15th anniversary of the Ice Climbing Festival. The event will be held December 7-11, 2011.
Find out more at http://www.bozemanicefest.com/
Sources: MSU News, Alpinest.com, Bozeman Daily Chronicle, bozemanicetower.wordpress.com
https://www.neice.com/wp-content/uploads/2011/09/boseman-ice-tower.jpg
287
360
NEice Admin
https://www.neice.com/wp-content/uploads/2017/10/2012_NEice_logo_oval_blk6-1024x350-300x103.png
NEice Admin
2011-09-27 22:23:55
2011-09-27 22:23:55
Proposed Bozeman Ice Tower