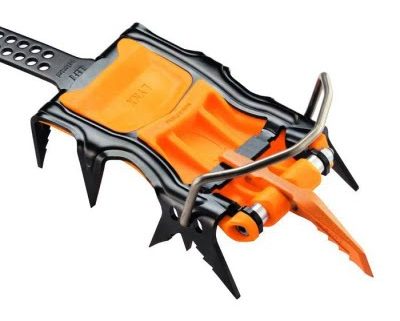 The "Lynx"
Petzls latest High End Crampon
Available SEPTEMBER 2011
$245.00 MSRP
The new Lynx crampon from Petzl offers a forged and easily replaceable monopoint or dual point. The Lynx will replace the M10. A much lighter replacement and should make a lot of people happy.

Modular crampon for ice and mixed 
climbing, with new LEVERLOCK universal 
bindings
From snow couloirs to dry tooling, the LYNX 
is a versatile crampon. Modular front points 
allow for many options: dual or mono-point, 
long or short, and/or asymmetrical. They 
come with two types of interchangeable front 
bindings to adapt to boots with or without toe 
welts.
• Versatile crampons for ice and mixed climbing
• Configuration and length of front points can be modified 
with one screw:
dual points in short, long or asymmetrical position
offset mono-point in short or long position
• Crampons adaptable to boots with or without toe welts:
interchangeable front bindings: stainless steel toe bail 
wires for shoes with toe welts, or flexible "Flexlock" style toe bindings for boots without toe welts
both types of toe bindings can be adjusted to accommodate shoe width 
and provide sufficient point length
• LEVERLOCK heel bail is height-adjustable, designed for 
boots with heel welt
• Integrated front and rear ANTISNOW plates
• FAKIR carrying pouch included
• Marked bars facilitate crampon adjustment
front and rear ANTISNOW (T24960)
stainless steel wire heel bail
Product specifications:
Number of points: 14
Boot sizes: 35 to 45 with M linking bar (included), optional L linking bar fits boots sizes 40 to 50 (T20850)
Weight: 2 x 540 g = 1080 g (configuration with two points and ANTISNOW)
2 x 455 g = 910 g (configuration with one point, no ANTISNOW)
Certification(s): CE, UIAA
More on the "Lynx" at  coldthistle.blogspot.com & the NEice Forum
Source: Dave Karl, NEice Forum – Dane
Lynx
https://www.neice.com/wp-content/uploads/2011/08/T24LLU_Petzl-Lynx-Steigeisen_b3.jpg
400
400
NEice Admin
https://www.neice.com/wp-content/uploads/2016/10/2012_NEice_logo_oval_blk6-300x103.png
NEice Admin
2011-08-06 19:47:50
2011-08-06 19:47:50
New Crampon from Petzl