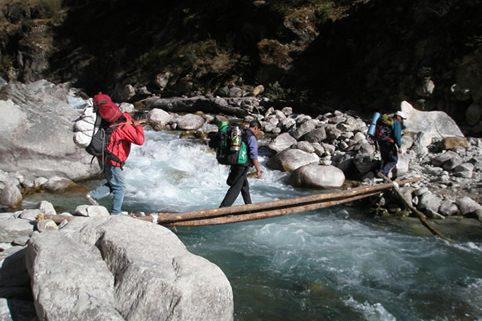 Adirondack Mountain Guides Nepal 2009 Trip Report
By Ian Osteyee
Porters crossing a foot bridge enroute to Namche.
On this season's trip to Nepal we traveled through London, Delhi, and then on to Kathmandu.
Our goal – to climb the 700-meter water-ice climb, "Losar ",  WI5, VI, in the Khumbu region of Nepal.
Our travel left the ordinary flow immediately as a 62- year old passenger had a heart attack between Newark and London, leaving myself and a former British Army medic as the two most qualified personnel on board. We managed to stabilize the unlucky fellow and turned him over to paramedics in Heathrow. Then, to add a bit more to the trip's flavor, somewhere between London, Delhi, and Kathmandu half of our bags were lost.
Despite the bumps in the road, we arrived in Kathmandu happily met by Kami Tenzing, a Sherpa friend of mine. Kami is the man who made it possible for the blind Erik Weihenmayer to reach the summit of Everest. I met Kami while guiding Erik in the Khumbu previously, and Kami spent a few weeks visiting me in Keene this past summer. Kami is one of three Nepalese to have met the president of the U.S. – the King, the Prime minister, and Kami. Kami organized everything on the ground for us, and always had the answers, even to lost bags.
After celebrating the New Year in the ancient city, we flew up to the Khumbu and walked for two days up to Namche Bazar while acclimating to the thinner air at 3800 meters. The Khumbu region's most famous ice route, "Losar", was on our list of goals for the trip. Having done it the season prior, I was looking forward to climbing it yet again with the four other climbers in the Adirondack Mountain Guides Nepal party. As we came up the steep slope toward Namche, our first view of "Losar" revealed a thin, but continuous line of unknown quality. The following day's approach to the base unfortunately revealed a waterfall not yet frozen, but trying. "Losar" was not in, but undeterred, this freed us up to start looking at other first ascent projects that I had scoped out the year before. Fortunately, our bags caught up to us in Namche thanks to the ultra-speedy Dzo-cow express and Kami's expedition magic. A Dzo-cow ("dzo-kyo") is the hairy beast that you get when you cross a male yak with a cow. Things were gaining momentum as we took in the views of stunning peaks like Ama Dablam.
Loading up the Dzo-cow ("dzo-kyo")
Moe Corrigan, Chonba Sherpa and I spent a day probing around in the forest on Kwongde, the same mountain "Losar" is located on. Right of Losar flows an obvious line that drops almost 2000 feet into the valley. The terrain leading up to it was steep and covered in bamboo. We worked our way upward through it, eventually finding a decent approach and a reasonable camp site. Tents were pitched and dinner served. A cold night followed in the forest on Kwongde, letting us get a good start as Tom Drake, Steve Smith and I headed up the long approach looking for the world-class ice ribbon we had seen. After a short scramble up through a rock slot and several hundred meters of "Bamboo 5" we found a boulder-filled, rock-walled drainage leading to the ice. It was incredible to come out of the slot and find the steep, long flow towering above. It looked dry and sublimated, but inviting. Excited, I starting up the line, testing each swing, It was hollow in many places. Traversing back and forth, trying to find the well-attached line, I gained ground. The arid nature of the environment made the ice very dry and brittle. I was thankful to have the Camp Awax tools in hand, the thin picks which make quick work of that type of nasty ice. The pitch seemed to go on and on and never let up. I was running out of shortie screws and hadn't found enough ice for anything longer. From below I heard Tom yell, "ten feet". Thankfully, with my 70m Bluewaters run all the way out, I looked up and there was a bulge that luckily took 16cm screws and it was "off belay!". Starting off the day with a full 70 meters of 85 and 90 degree ice, often not thick enough for shorties, had us all feeling a little on edge. Nothing to do about it but continue upward. A glance up showed the second pitch was to be more of the same but easing off higher up on the route. Another 70 Meters of thin ice dancing and tentative stubby placements led us up as the angle eased and the climbing became less demanding. We laughed as remaining pitches cruised ever upward never getting harder than WI 3+. Pure joy in the climbing, gaining altitude up the massive mountainside. Success!
View of "Shaugdro", WI5R, at center, with Losar, WI5, at left, viewed from near Namche Bazaar, Nepal.
Tom and Steve follow the steep lower pitches during the probable first ascent of "Shaugdro" WI 5R, 500m. Osteyee photo.
That evening back at the teahouse, Kami Tenzing assured us that the route had never been climbed. Just the same, we'll call it a possible first ascent, and for the sake of a name, call it – "Shaugdro" WI 5R, 500m, ACB (As Climbed by) Ian Osteyee, Tom Drake, and Steve Smith.
While we were across the valley on "Shaugdro", Mark Arrow and Moe Corrigan had already headed up to Lhabarma and were climbing in Phulebuk. Phulebuk is a great feature just out of the way from the main trail system. It is full of 400+ foot ice climbs that are all at about 15,000 feet, and until the last couple of years have gone unclimbed. We joined the duo the following day, and I enjoyed watching from a comfortable grassy spot as the two different teams went to work on their respective new routes. Mark Arrow and Moe Corrigan excitedly returned to the meadow after soaked up the bright warmth during the first ascent of "Desconnor", WI 4, 150m, a steep flow that invites basking in the sun. A kilometer south, on their chosen flow, Tom Drake and Steve Smith worked their way up "In Sickness and in Health", WI 3+, 150m, a more shaded route starting with a beautiful column, then cruised upward on stunning ice amid surrounding peaks like Thamserku 6608m and Kangtega 6685m. Up the valley stands Cho Oyu and across the valley are Arakam 6423, Cholatse 6335, and Taboche 6367. These ice routes are solidly placed in one of the world's most beautiful places to climb. Tom, Steve, Mark, and Moe couldn't have been more excited.
Tom Drake works his way up "In Sickness and in Health", WI 3+, 150m. Photo by Steve Smith.
"Desconnor", WI 4, 150m.
The following day Tom Drake and Steve Smith headed up to Goyko Ri (5360m), and Moe Corrigan, Mark Arrow, and I headed back down to Namche hoping to find "Losar" in better shape. Unfortunately, "Losar" was still a waterfall. Out of time for other big approaches, we went out scouting for future trips. While on our scouting trip, we did find one small route that we had time to do near the village of Thesho. It was an hour walk from Namche, but worth the trek to get one last new climb in. Located over yak pastures and small, stone dwellings, this small route,"Bolognesse" WI 4- , 30M, was a great way to finish the trip. It was named for the meal that sustained us on the journey more than any other; yak meat, watery tomato sauce, and noodles.
Osteyee leading up the small route,"Bolognesse" WI 4- , 30M. Somewhat reminiscent of a route in the Catskills or Pennsylvania but with a decidedly more mountainous view from the route.
Our trip was full of adventure – climbing and otherwise, but it was not over. Leaving Namche and back in Kathmandu, we discovered that Indian Air had cancelled our next days flight out of Nepal. Gathering our gear, we headed to the airport to see what we could figure out. Four hours of hustling, through crowds of the Hindu faithful there for a very special festival, along with some fancy talking got us on a flight that afternoon. Then another boring twenty hours of waiting in the Delhi airport when an excited airline employee hurriedly scrambled us to a different gate for our flight which still barely allowed for the baggage to be transferred to our Virgin Atlantic flight to Heathrow. Thankfully, without further delays we arrived back home, everyone satisfied and full of stories to share with friends for years to come.
Special thanks to Blue Water Ropes and Camp. The Blue Water Excellence ropes stayed dry and manageable through repeated uses in wet places, without any time to dry. The Camp Awax tools and Vector crampons performed flawlessly on some of the most dry, brittle and difficult ice conditions.
– Ian
Editors note:  Ian Osteyee is owner of Adirondack Mountain Guides in Keene, N.Y., and AMGA-certified guide with over 25  Years experience.  In 2008, Osteyee guided famed blind climber and Everest summitter Erik Weihenmayer and Rob Raker up the huge ice route, "Losar",WI5, VI, 700M, in Nepal.
https://www.neice.com/wp-content/uploads/2009/09/Sherpa_Bridge-1.jpg
361
482
NEice Admin
https://www.neice.com/wp-content/uploads/2016/10/2012_NEice_logo_oval_blk6-300x103.png
NEice Admin
2009-01-20 12:25:50
2009-01-20 12:25:50
Adirondack Mountain Guides Nepal 2009 Trip Report