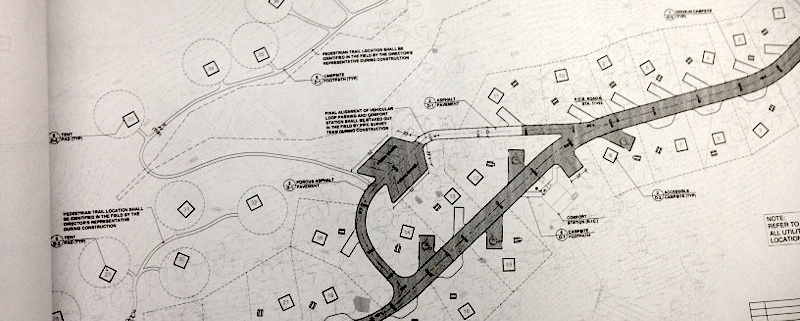 FOR IMMEDIATE RELEASE
September 25, 2013
New Paltz, N.Y. — Ground has broken in the Gunks!
The American Alpine Club and Mohonk Preserve are proud to announce that construction is underway at the Samuel F. Pryor III Shawangunk Gateway Campground. The long-anticipated and much-needed campground will be a major addition to the Shawangunk Mountains region's lodging facilities.
Climbers will be able to camp in comfort and walk to nearby crags and boulders
Since 2006, the American Alpine Club, Mohonk Preserve, the New York State Office of Parks, Recreation and Historic Preservation, and the Palisades Interstate Park Commission have been working in partnership toward the creation of a campground near the popular climbing area, the Shawangunk Ridge — commonly known as "the Gunks."
The 50-acre campground will include approximately 50 campsites within walking distance to the Trapps and Near Trapps, which have hundreds of rock climbs. Located along Route 299, the campground is also just a short walk from the Mohonk Preserve Visitor Center.
The American Alpine Club, in cooperation with Mohonk Preserve, will manage the campground. Campground amenities will include an outdoor central gathering and cooking area, bathhouse facilities, and indoor space for visitors to gather during rainy weather. The anticipated date of completion is spring 2014.
"The AAC is dedicated to providing affordable lodging for climbers at world-renowned climbing destinations in need of such facilities," said AAC Executive Director Phil Powers. "Climbers know the Gunks as one of the most storied and popular climbing areas in the country. This campground will give our community a great place to stay, and to gather, all while providing a cleaner and lower impact camping option just minutes from climbing."
The American Alpine Club manages three other major lodging facilities for climbers: the Grand Teton Climbers' Ranch in Wyoming, the Hueco Rock Ranch in Texas, and the New River Gorge Campground in West Virginia.
---
Contacts:
Erik Lambert
Information & Marketing Director
The American Alpine Club
[email protected]
(303) 951-4572
Gretchen Reed
Director of Marketing & Communications
Mohonk Preserve
[email protected]
(845) 255-0919, ext. 1243
https://www.neice.com/wp-content/uploads/2013/09/IMG_0700-1.jpg
600
800
NEice Admin
https://www.neice.com/wp-content/uploads/2017/10/2012_NEice_logo_oval_blk6-1024x350-300x103.png
NEice Admin
2013-09-28 11:10:36
2017-10-04 14:40:42
New Shawangunk Campground Breaks Ground