ADIRONDACK INTERNATIONAL
MOUNTAINEERING FESTIVAL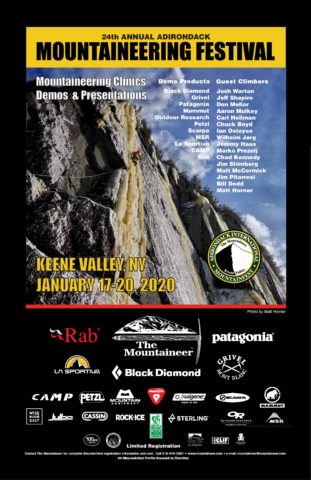 JANUARY 17-20, 2020
Mountainfest is an annual celebration of ice climbing and mountaineering featuring guest athletes who entertain us with tales of climbing adventures, instructional clinics taught by visiting athletes and local guides, demo gear, and of course an opportunity to mingle with the climbing community for an exciting weekend of winter climbing and fun!
Mountainfest Schedule
https://www.mountaineer.com/eventsmountainfestschedule/
Don't miss the Sunday night slide show. "Locals"  Alden Pellett presenting
Alden Pellett is an Ambassador for Mammut and is a part of the product development team for CAMP Technical Adventure Equipment, Alden is also a frequent contributor to NEice.
Alden has been ice climbing for over 25 years, climbing expert-level routes in Newfoundland, the Canadian Rockies, French Alps, Quebec, and the Gaspe' Peninsula.
Pellett is not afraid of running it out with a pair of ice tools on the sharp end – known for bold first ascents around the Northeast using a traditional boltless on-sight ground-up ethic.
Jeff Lowe and Guy Lacelle remain inspirations to Pellett as he also applies his strong style to thousands of free-solo ascents of ice routes including hard climbs around the country such as "Bridal Veil Falls", "Called on Account of Rains", "Mindbender", "Simon Proulx", as well as in the Adirondacks, solo-linking routes such as "Power Play Direct", "Positive Thinking", and "Waterfall Wall" in just a few hours. Last winter, Pellett accomplished the first free-solo ascent of the 1000-foot Cholesterol Wall via "Fat of the Land", WI5+, at Ten Mile Pond in Newfoundland.
This error message is only visible to WordPress admins
Error: No posts found. No posts made to this hashtag within the last 24 hours.