Mount Washington Valley
Ice Fest 2020
This Weekend!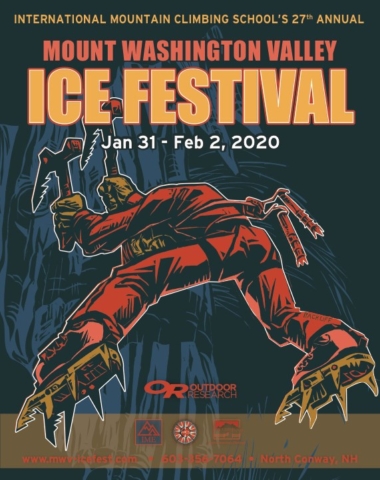 EVENING EVENTS
Both Presentations are held at Theater In The Wood!
Doors Open at 6:00 pm Friday
Doors Open 6:30 pm Saturday
$10 per person, Tuckerman beer while supplies last!
PLEASE CARPOOL!
Presentations
FRIDAY January 31, 2020
Jon Walsh: Where others see barriers, Jon sees possibilities. While others call it suffering, Jon chalks it up to just part of the process, learning something new on every outing. Jon's presentation will share stories and images from some of his favorite climbs over the last two decades.
SATURDAY February 1, 2020
Graham Zimmerman and Mark Richey: Graham and Marks presentation will be on Link Sar. Since it was first attempted in the 1970s the peak Link Sar in the Pakistani Karakoram has been one the last great unclimbed peaks of the world's big mountains. Graham Zimmerman and Mark Richey tell the story of their team's multi-year quest to climb this peak.
More on the presentations can be found here.. https://www.mwv-icefest.com/presenters/
---
NEice is looking forward to this great event. It is the largest Ice Climbing Festival in New England. This event hosts some of the best ice climbers in the region, and the world. NEice will be upstairs at IME with Hot Soup for Apres Fri. & Sat from 3:30pm to 5:30pm. Hope to see you there.
More information on this event can be found here:
https://www.facebook.com/mwvIceFest/
https://www.facebook.com/events/440130063590811/
Event Schedule